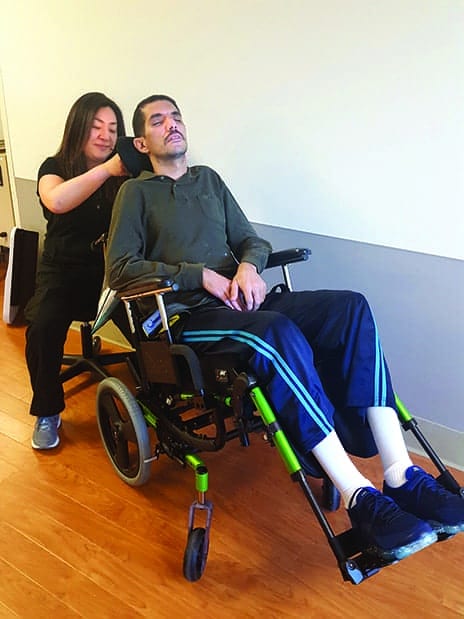 by Mei Knothe, MS, OTR, ATP, and Eileen Yorke, OT, ATP, SMS
Given the advances in medicine, treatment, and technologies, the survival rates among individuals with traumatic injuries continue to increase. However, many patients present with significantly more complex physical, functional, cognitive, and rehabilitation needs. Whether the result of a motor vehicle accidents, falls, acts of violence, stroke, or other incidents, these challenges must be carefully evaluated by the clinician when determining a client's seating needs. The same holds true for individuals with neuro-degenerative or congenital diseases, such as multiple sclerosis, amyotrophic lateral sclerosis (ALS or Lou Gehrig's disease), cerebral palsy, and muscular dystrophies, whose needs will change over time.
Clinicians, of course, must examine each case individually and develop a seating and mobility plan that fits the individual's physical and functional status, as well as lifestyle needs. In an inpatient rehabilitation hospital, like Kessler Institute for Rehabilitation, the majority of patients are admitted with traumatic injuries. Of those who have sustained a brain injury, many may present with disorders of consciousness, cognitive deficits, aggressive behaviors, poor attention, poor arousal, and physical limitations compounded by muscle contractures and even acquired pressure injuries. The goal as clinicians is to provide the most appropriate mobility devices and seating system to promote physical and cognitive healing, and maximize the patient's ability to safely engage in basic therapeutic activities.
Battling Skin Breakdown
The first step is to determine the mobility device that best fits the individual's physical and functional abilities. In many cases, this will be a customized manual tilt-in-space wheelchair, which provides postural support and allows for weight shifting throughout the day to reduce risk of pressure injuries. The tilt-in-space system enables the patient to be comfortably seated while maintaining their center of gravity and positioning while in the chair. Those patients who present with poor postural control will require additional gravity assistance and positioning support to achieve a midline position of the trunk. The ability to change position in space through tilting is essential to increase overall sitting tolerance and decrease time spent in bed, thus lowering the risk for further deformity and skin breakdown. This is important because medically complex patients face an increased risk for soft tissue breakdown due to moisture, a tendency for shearing, asymmetrical sitting posture that can lead to postural deformity and the inability to independently perform pressure relief.
Tilt Features and Support Surfaces
Tilt-in-space wheelchairs are easily adjustable for both width and depth to accommodate client's height and weight. A tilt-in-space wheelchair can be customized to position clients who have multiple upper and/or lower extremity contractures. For example, offset hinges on the swing-away leg rests can be used to accommodate severe hip abductor contractures by providing a larger surface area to place the legs. A custom foot box can also be used with patients who have significant hip adductor knee extension and/or ankle plantar flexion contractures.
Because of the range of options available, manual tilt-in-space wheelchairs can easily be adapted to meet patients' needs, even as they change over time. Back supports, which help maintain midline orientation, come in a variety of heights, widths, and contours, as well as different inserts, including soft foam, air cell, or fluid packs. For example, upon admission, a patient may require a more aggressive contoured back with spinal inserts to relieve pressure. As they progress and demonstrate improvements in functional posture and the ability to hold the head and trunk in more midline, a less contoured back may be more appropriate. In addition, back supports come with adjustable lateral supports that can be mounted at various heights to accommodate for scoliosis or any trunk asymmetries. This also helps to promote midline stability and allow for visual scanning of the environment and engagement in therapeutic activities.
Seating support surfaces using off-the-shelf cushions vary in size, materials, shape, and pressure-relieving properties. Cushions can be made up of fluid, air, gel, foam, or a combination of these materials. The cushions can also be modified with inserts for pommel support, adductors pads, obliquity pads, and fluid overfills. Evaluating clients for support surfaces is an ongoing process in inpatient rehabilitation as a patient may require a more aggressive pressure-redistribution cushion and seating system initially. As they progress, the cushion can be re-evaluated to determine the amount of postural support required.
Pressure Mapping Assessment
The medically complex patient may require a pressure mapping assessment in order to determine the most appropriate seating system. Since many clients may be unable to accurately express their pain and discomfort or change their sitting position independently, clinicians can better identify and understand seating and positioning needs through this detailed assessment. This will help to decide the type of back support, cushion, and materials to be used. This assessment can also be used to educate patients, families, and other clinical staff members. During the assessment, the patient is positioned on a computerized pressure map which then provides images and information that therapists can share with the individual and family members or caregivers about pressure points and pressure-redistribution positions with the use of a manual tilt-in-space wheelchair and seating system. This visual feedback has shown to be an excellent tool not only in determining proper positioning and seating, but also in minimizing complications and promoting skin integrity.
Equipment Trials
In the outpatient setting, the wheelchair clinic at Kessler Institute also draws a wide range of medically complex clients seeking new or updated mobility systems that again best meet their postural, support, and lifestyle needs. Following a thorough evaluation of their medical history, home environment, current mobility device and seating system, and functional goals, the therapy team will initiate equipment trials. Special attention is given to an individual's current functional status as well as possible future needs. An example of this would be the client who was diagnosed with ALS who may be able to control a joystick with their dominant hand now, but may not be able to safely negotiate their wheelchair as their strength and function declines.
Progressive diseases, such as ALS, multiple sclerosis, and muscular dystrophy, are medically complex, and so are the seating and mobility issues they present for individuals and their families. These clients will often move from a custom manual wheelchair to power mobility with customized alternative controls. If a client presents with limited hand function, alternate switches can be mounted almost anywhere on the wheelchair. For example, clients who may only be able to utilize one finger will find that a mini joystick-mounted midline can enable them to propel the chair on the own. Soft touch switches in various sizes and sensitivity levels can be mounted at the knee, foot, head, or shoulder to allow an individual to turn the wheelchair on or off and change the programmable seat functions, including the ability to perform full tilt-in-space, recline, power legs, and seat travel. This, in turn, helps to promote independence in weight shifting and positioning and assist with medical needs such as catheterization and orthostatic hypotension.
Assistive Technology for Drivers
Among the many other assistive technology devices available to drive a power wheelchair are chin control, head array, and sip-and-puff systems. Chin controls can be mounted on a boom off of a head rest or on a "bib" system. The challenge with a chin control is maintaining the proper positioning to access this switch, which can be difficult for the client and caregiver to properly set up daily. Head array systems involve switches that are mounted inside the head support pad and are easily programmed and modified to meet client needs. By moving or turning their head to access the pad, clients can control the wheelchair. The sip-and-puff system is generally recommended for clients who have no functional use of their upper or lower extremities. This technology, which is based on air pressure, sends signals to a power wheelchair when the client "sips" (inhales) or "puffs" (exhales) on a straw, tube, or "wand." Overall, assistive technology has developed greatly with increased precision and programmability that allows medically complex clients the opportunity to be independent with mobility.
A significant number of medically complex clients require external supports and medical equipment. For those who are dependent on a ventilator for breathing, the machine can be mounted on the back of the wheelchair on a ventilator tray. Other medical equipment such as suctioning machines and cough assist machines can also be mounted directly on the power wheelchair for easy access and safety.
Determining the best possible seating and mobility system for any patient or client is a challenge, one that is compounded by the scope of an individual's medical, physical, functional, and cognitive status. As clinicians, we focus on the health, safety, and independence of each individual in our care. That means, for example, we may recommend that a client be molded for a seating system that accommodates for significant scoliosis, kyphosis, lordosis, or pelvic deformities such as obliquities and/or pelvic rotations. These systems can be modified with air cells and fluid packs to provide additional support for bony prominences and recurrent pressure injury sites.
Taking The Long View of Seating
Seating, positioning, and mobility solutions are as complex and challenging as our patients. There is no one-size-fits-all approach. Rather, we need to take into account a range of important and individual factors to not only address immediate needs, but also to allow for adjustments and modifications as time goes on. It's critical that we continue to monitor the individual and work with them and their families to ensure that needs are being met and their health is maintained. With the ever-increasing variety of tools and technologies available, we have the ability to meet these needs with knowledge, flexibility, and confidence. RM
Mei Knothe, MS, OTR, ATP, is a senior occupational therapist at Kessler Institute for Rehabilitation. She has been practicing OT for over 10 years since she received her OT degree from Seton Hall University. She has experience in stroke, amputee, and brain injury, specializing in seating for those populations.
Eileen Yorke, OT, ATP, SMS, is an advanced clinical specialist at Kessler Institute for Rehabilitation. She specializes in the area of wheelchair seating and positioning and has earned her Assistive Technology Professional (ATP) and Seating and Mobility Specialist (SMS) certifications. For more information, contact [email protected].
This article appears in the March print issue of Rehab Management under the title, "Complex Solutions."