Photography be Omar Pineda.
When deciding on the right physical therapy equipment to purchase for their facilities, the Physical Therapy and Wellness Institute, Back in Action Physical Therapy Clinic, and the Craig Rehabilitation Hospital all follow a similar process before purchasing equipment, such as assessing the need for new equipment, considering recommendations, and following current market trends.
Robert Babb, PT, MBA, is the president and practicing physical therapist for the Physical Therapy and Wellness Institute (PTW). Babb has 23 years of experience and runs proactive education-oriented programs in the southeastern Pennsylvania area. He is also a graduate of Temple University and has helped individuals with acute and chronic injuries as well as sports injuries.
"Regarding decisions on which equipment to purchase for our facility, there are about eight people involved, including myself. We are always looking at trends and what's happening in the physical therapy world. We also look at cash flow, recommendations over the course of the year, and the cost of the equipment," says Babb.
According to Babb, the facility is always looking for new equipment that caters to the needs of their patients and they are always adding something new.
"This year we are putting in a new traction table in our Quakertown center," says Babb.
With the status of today's economy, current market conditions also play a role in making the final decisions regarding the types of new equipment to purchase.
"We are currently advancing the company with an industrial medicine program because we think that the economy in the next year or two will not be what we would like it to be. Fewer people are going to want to come in 3 days a week with a co-pay even though we give great care. The fact of the matter is that economic times will make a shift in the way we go about business," says Babb.
In addition to creating other streams of income in order to purchase the equipment the facility needs, reimbursement programs are also considered by Babb.
"When we buy new equipment, we are hoping that there is reimbursement on that particular piece," says Babb.
Seventy-five percent of PTW's client base are 40 years old and up. When purchasing equipment, Babb and his team are focused on the 40-plus population.
"We use the stationary bike for mainly the ankles and hips. We also use cable machines for functional strengthening. The beauty of cables is that they are low cost and very effective," says Babb.
The PTW Institute tends to purchase angular equipment that is less expensive and the facility also uses treadmills because the intensity and the duration of the density can be controlled, according to Babb.
"We also love the elliptical and the gait and balance equipment from the least expensive egg crates to the high balance boards," says Babb.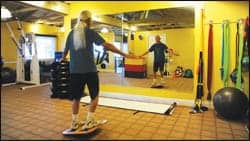 Warren Tanaka takes time on a treadmill, a balance board, and a stationary bike in his daily fitness regimen at Physioworks PT, Manhattan Beach, Calif.
"We give out bands to everyone who walks in, and a good portion of our clients receive rubber bands, which work the core body very well," he says.
The clinic also provides aquatic physical therapy in its Lansdale location. According to the PTW Institute's Web site, the healing powers of water reduce inflammation, promote blood flow, and enable an injured area to exercise much more easily and safely than on land. The properties of buoyancy, viscosity, superficial warmth, and hydrostatic pressure make aquatic therapy ideal for those with painful conditions or adolescent joint recovery, or have had ankle, knee, hip, and back surgery.
For patients who have been told that their insurance companies will offer no choice of physical therapy, have been discharged from a physical therapy program, have been advised to join a health club but are fearful to exercise without supervision, or are tired of paying high co-pays to attend physical therapy, the PTW Institute offers a cost-conscious alternative with no annual fees and no limit on monthly visits.
Back in Action Physical Therapy in Portland, Ore, is owned and operated by Ted Ellquist, PT. According to Ellquist, his vision includes providing individualized one on one treatment time while educating clients for self-empowerment.
"When purchasing equipment, I'm looking for multiple uses and that the equipment is functional and cost-effective. The equipment also needs to support what I do, which is to make people independent," says Ellquist.
Back in Action's client base is 40% men and 60% women, ranging from ages 20 to 60. It is also made up of blue-collar and white-collar workers.
Ellquist developed an interest in the effects of alternative medicine while working in pain management when he noticed that certain clients had no improvement after spinal cord fusions, injections, or drug therapy.
Bank in Action Physical Therapy offers treatments for neck and back pain, sports injuries, work injuries, auto injuries, shoulder pain, knee injury, carpal tunnel syndrome, disc problems, scoliosis, tendonitis, fibromyalgia, arthritis, and other musculoskeletal conditions.
"Most of my clients developed pain from working on the job," says Ellquist. "I have stationary bikes, treadmills, and a total gym for my clients. I also use balancing equipment. Usually we treat clients with ankle sprains from sports and shoulder dysfunction. I also use bands for shoulder and scapular strengthening and for the upper back," says Ellquist.
The Craig Rehabilitation Hospital in Denver is a nonprofit freestanding facility exclusively dedicated to specialty rehabilitation and research for patients with spinal cord injury and traumatic brain injury.
When it is time to purchase equipment, Director of Physical Therapy Darrell Musick makes the final decisions.
"Most of the low-tech equipment decision-making stops with me. I base decisions on whether there is an actual need. We also look at whether there is any evidence that supports what the manufacturer of the equipment is claiming," says Musick.
The hospital also uses the Craig Foundation, which provides grants for the purchase of new equipment.
"If the physical therapy department needs to purchase equipment, funding is rarely a problem since we receive grants from the Craig Foundation. That's in addition to our normal budget," says Musick.
The Craig Hospital uses locomotor training in addition to stationary bikes, arm bikes, treadmills, medicine balls, and bands.
The hospital sees approximately 400 patients a year and the average age is 38, according to Musick. The most common ranges are 18 to 24 and 45 to 55. About 80% of those are men, and 50% of these injuries are either spinal cord or brain injuries from automobile accidents, according to Musick. The second largest cause is falls, and the third largest is sports injuries, such as diving into water of unknown depth, empty swimming pools, or the ocean at low tide. Almost 100% are traumatic injuries as opposed to aneurysms or stroke.
"We are a not for profit hospital that specializes exclusively in spinal cord and brain injury rehabilitation and research. We see patients from all over the country. Our beds are always full at any given time. Funding is rarely ever a problem if we really believe that we need certain pieces of equipment," says Musick.
Craig Hospital offers physical therapy programs for spinal cord injury such as in patient CCI rehabilitation, ventilator dependent and weaning programs, rehabilitative neurosurgery, reevaluation follow-up and clinic services, health and wellness information, and spinal cord injury research.
"I don't really have to consider the return on an investment. What is a factor is will the equipment help the patient, will their outcome be better, and does the piece of equipment do what it is supposed to be doing for the patient," says Musick.
The hospital's most recent advances have been the FES (functional electrical stimulation) and the video-enhanced arm bikes.
"It's not just pushing an arm bike; it's basically trying to take a monster truck over some other trucks, and it gives the patients a purpose or a goal that helps them forget about the exercise they are doing," says Musick.
Nintendo Wii games, which are video games marketed to children and families, are also used by the Craig Hospital.
"You can use them standing, or you can use them in a wheelchair. A patient who can move only their foot and ankle can still use the games. It's a way to get people to do strength activity. You want to get them to perform a goal," says Musick.
Craig Hospital is a young people's rehab facility, according to Musick. The facility's mission is to get people back to doing what they were doing before their injuries.
"We treat 15% to 20% Medicaid patients who are essentially indigent. We also help people get the equipment they need," says Musick.
Currently, Musick and his staff are in the process of evaluating the possibility of adding robotic locomotor training equipment to their facility.
In addition, the Physical Therapy and Wellness Institute and Back in Action Physical Therapy Clinic's directors are keeping their eyes open for new technological advances in physical therapy equipment in order to provide the best care possible for their current and future patients.
---
Gina Bernal is a contributing writer for Rehab Management. For more information, please contact .