Getting patients up and walking after stroke, TBI, and incomplete SCI is a goal that technology and the right intervention help achieve
by Shannon Motisi, PT, DPT, and Lauren Wright, PT, DPT
Being upright is important for relieving pressure, managing lower extremity spasticity and tissue tightness, and facilitating lower extremity weight bearing, which are crucial for maintaining bone density, enhancing gastrointestinal motility, promoting bowel and bladder function, and stimulating the autonomic nervous system. In rehabilitation, we achieve the benefits of upright through a standing program or through gait training.
Standing programs may be implemented early on in an individual's stay in the inpatient rehabilitation setting. Depending on the acuteness and severity of injury, an individual may have insufficient strength, postural control, balance, and autonomic regulation to begin participating in overground standing or walking. Therefore, the use of one of many standing devices available may be indicated. Manual and power-assisted standing frames offer differing levels of postural support to optimize alignment. When choosing the best standing device for an individual, it is important to evaluate the individual's goals, transfer status, postural control, autonomic stability, and available range of motion.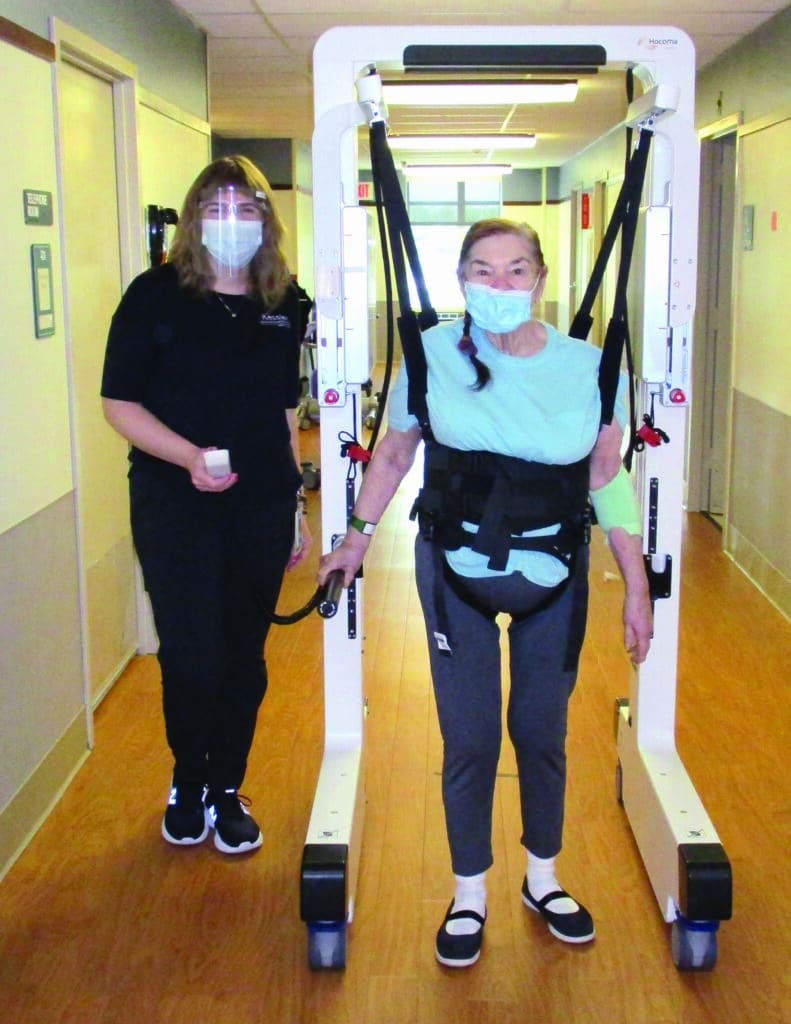 Technology Selection
Based on evaluation findings, appropriate selections may be made. Examples of postural support included within the standing devices are head support, various styles of trays to support upper extremities, safety straps to secure the individual's trunk, a full seat pan or harness-style sling to support the individual's hips, various knee pads to assist with knee extension, and foot plate options.
When considering postural support options, also note the amount of padding available, as it is important to maintain skin integrity and offload compromised areas. Adjustments to the postural and positioning straps can be made to allow the individual to be as active as possible, especially as muscular strength and endurance improve with time. Lastly, it is important to know that some devices are accessible from a seated position (wheelchair or bed), however, others require a transfer into the device.
While participating in a standing program, monitoring the individual's response to the intervention is imperative. Monitor blood pressure and heart rate closely, as orthostatic hypotension is common when initiating a standing program. If orthostatic hypotension is a barrier to upright, tilt table training is indicated to allow for a more gradual introduction to the vertical world. Once autonomic stability is achieved, a typical progression from the tilt table to standing frame or to a walking device may be indicated. For the goals of standing, time spent in upright is an objective measure that can be utilized to capture upright tolerance.
High-Intensity Gait Training
Once autonomic stability is achieved, the recommended treatment intervention for improving walking function is to initiate high-intensity gait training. High-intensity gait training, which emphasizes the specificity and intensity of training, focuses on a primary intervention of gait training, performed at intensities of 75-85% HR max, and is the Clinical Practice Guideline for individuals affected by stroke, TBI and incomplete SCI, who want to improve walking function. To achieve the specificity and intensity parameters with individuals in acute inpatient rehab, with new diagnoses of acquired brain injury and incomplete SCI, we often must utilize various walking devices. These devices can support individuals who would otherwise require total assistance, or two-person assistance, to stand or walk. With these devices, we can assist patients in walking while achieving the intensities prescribed for high-intensity gait training. Examples of these devices include overhead harness systems that unweight the body and may be used over ground or over a treadmill, and large platform rolling walkers with pelvic straps that may be used for unweighting. As with a standing program, monitoring an individual's response to treatment is imperative. With high-intensity gait training, continuous heart rate monitoring is crucial to knowing that the appropriate target heart rate is achieved and maintained.
Benefits from Top to Bottom
There are many psychosocial benefits associated with upright training, as it allows an individual to access the environment in a new way. If an individual's goal is to stand, participating in an upright program can facilitate emotional regulation and promote overall well-being as they actively work toward their goal.
As the postural supports of standing devices can stabilize the trunk and lower extremities, standing devices can allow for increased upper extremity mobility to facilitate participation in age-related normative activities and activities of daily living. High-intensity gait training focuses on providing access to the vertical world and becoming functional ambulators.
Standing at Home and Beyond
Devices may be recommended for home to continue to facilitate and maintain gains made in therapy. As described, there are a variety of options available to facilitate upright. It is important to select a device that supports the user's needs but also allows the user to be as active and independent as possible. As described, the level of assistance an individual requires for transfers should be prioritized when selecting a device for home, especially if the individual requires assistance from a caregiver.
To begin the process of ordering a device for home, it is important to schedule an appointment with a mobility device vendor to trial the recommended device and select components to optimize postural alignment and allow the user or caregiver to manage the device in a controlled environment. Funding can be a barrier to device acquisition and is dependent upon several factors, including medical necessity, insurance authorization and model type.
Mention safety considerations and barriers to participation in an upright training program. These considerations include orthopedic restrictions, specifically weight-bearing status of the lower extremities and joint contractures that cannot be safely accommodated by the positioning systems. Each device has specific height and weight parameters that need to be strictly followed for patient safety. If wounds are present, they need to be protected and offloaded. Vitals need to be monitored since autonomic instability is common when initiating an upright program.
Vertical Integration
Giving individuals access to the vertical world and facilitating return to the community via gait training is imperative for allowing increased safety and independence when an individual leaves rehab. Through evaluation of an individual's needs and goals, a therapist can design and implement a standing and walking program to fit the individual's needs and help achieve goals. RM
Shannon Motisi, PT, DPT, is a Board-Certified Clinical Specialist in Neurologic Physical Therapy, Clinical Specialist-Inpatient Brain Injury Unit, at Kessler Institute for Rehabilitation, West Orange, NJ.
Lauren Wright, PT, DPT, is a Board-Certified Clinical Specialist in Neurologic Physical Therapy at the Kessler Institute for Rehabilitation, Saddle Brook Campus. For more information, contact [email protected].
Gait Trainers Get It Done
By Frank Long, MS, Editorial Director
Is it an exaggeration to say not a minute goes by without someone having a stroke? No. In actuality, stroke occurs much more frequently: one approximately every 40 seconds. Stroke is prevalent and causes considerable disability—approximately 35% of stroke survivors who initially have paralysis of the leg do not regain function. Therefore, therapy programs must maximize the opportunity to restore walking while the recovery window is open, and gait trainers can help optimize progress during that crucial time.
Versatile and Affordable
Over-ground gait devices can be used as an affordable and user-friendly tool to help therapists provide a supported gait intervention. Some models are highly adjustable and have frames constructed with materials that are lightweight yet provide critical stability to support stepping and other therapeutic practice activities. Gait trainers are also available in configurations that provide sit-to-stand assistance so that individuals can attain an upright position more easily. Gait trainers allow the user to control the pace of activity, and the market currently offers models designed to provide support from a posterior or anterior position.
Gait trainers fill a gap in a wide field of technologies used to support walking recovery that includes parallel bars, walkers, stepping platforms, treadmills, and robotic gait devices. Manually operated gait trainers offer a safe and stable technology that has a small footprint and are available at a price point most facilities can afford. Furthermore, gait trainers do not require extensive training for therapists to use them or create the need for facilities to make structural modifications.
Stroke is not the only condition for which gait trainers can be a valuable rehabilitation tool. Gait training can also be useful in post-joint replacement therapy, amputations, or spinal cord injury.
Pediatric Applications
As a cost-effective and easy-to-use therapy tool, gait trainers play an important role outside of the stroke population by helping children achieve proper positioning while they learn and improve their walking skills. Children affected by cerebral palsy or other developmental delays may need support in the upper body or other areas while their skills progress. Some of the designs currently on the market include devices that offer forward tilt in the anterior configuration and full upright support in the posterior configuration.
Gait trainers built for the pediatric population can offer features such as adjustable center bars and built-in suspension that simulate the natural walking pattern. Models with foldable frames are also available to make them easier to store and transport.
Whether for use with adults or children, gait trainers are a versatile, durable, and affordable tool that can help some of the most vulnerable individuals stand tall and move forward with feet firmly underneath them. RM