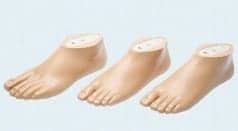 A new fitting solution designed to accommodate individuals with limb loss is now available through Minneapolis-based company Ottobock. The company's Solid Ankle Cushion Heel (SACH+) prosthetic foot is intended to offer benefits and new features to users at mobility levels K1 and K2.
The product also features a blend of a glass-fiber reinforced contoured core and functional foam. The blend, Ottobock says, provides users more protections against bumps, direct, and moisture.
The SACH+ feet are marketed in a variety of different heel heights and foot shapes, in order to allow for an easy fit into men's and women's shoes. According to the company, the 1S101 offers users a standard foot shape while the 1S102 and 1S103 are slimmer. The SACH+ feet are reportedly recommended for users with unrestricted indoor walkers and restricted walkers.
For more information, visit www.ottobockus.com.
[Source: Ottobock]