CAPTION: Waiting Room at The Charles Lazarus Children's Abilities Center (photo courtesy of Mount Sinai Health System/Mirelle Phillips)
Mount Sinai announces the opening of The Charles Lazarus Children's Abilities Center, which aims to transform and shape the course of children's rehabilitation.
The state-of-the-art facility, located at Mount Sinai-Union Square, is reportedly the only center in New York City and in the United States to develop and offer innovative, affordable, life-changing therapies that can accelerate rehabilitation for many different conditions, including those with cerebral palsy, paralysis, traumatic brain injuries, and concussions, according to a media release from Mount Sinai Health System.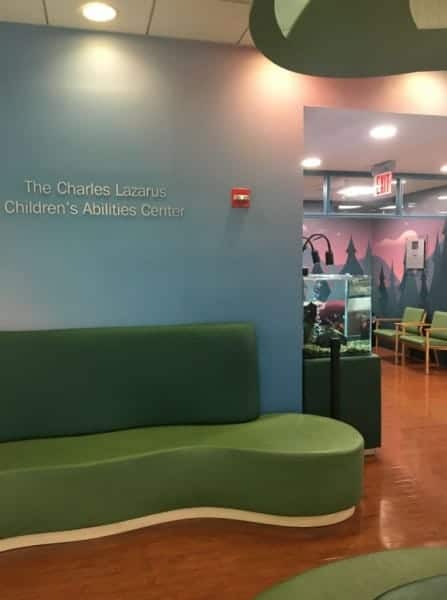 "There are so few quality options for pediatric rehabilitation in the United States. The Lazarus Center will leverage the latest in innovative rehabilitation technologies to ensure that all families can access the highest possible standards of rehabilitation and wellness services.

"Traditional approaches to pediatric rehabilitation are difficult to access, expensive to achieve, and often require families to make tremendous sacrifices in order to access adequate care. Our team are experts in delivering high-quality therapies using innovative techniques, making care accessible and affordable for all children."

— David Putrino, PhD, Director of Rehabilitation Innovation for the Mount Sinai Health System, who will lead the new Center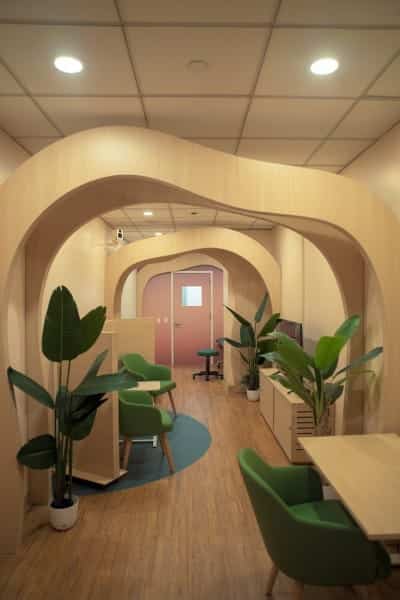 Therapy As Play
The center will develop a "therapy as play" program offering low-cost, game-based telehealth services for children living with paralysis, with an initial focus on those with cerebral palsy, which is the leading cause of paralysis in kids. By partnering with technology companies, it will create therapeutic and captivating video games that improve children's mobility, overall health, and confidence.
Patients will access the games at home through a special dashboard designed by Logitech in collaboration with Dr. Putrino's team. Mount Sinai physical therapists will also have access to the dashboard to watch patients play in real time during virtual appointments, and this therapy is expected to be covered by most insurance. Experts can monitor their progress and adjust the game level to make them more challenging over time. Eventually, this technology will allow patients to participate in everyday activities through improved mobility.
Mount Sinai researchers will also use the therapy as a play safety program to lead innovative studies to better understand precisely how intensive neurorehabilitation changes a child's nervous system and leads to recovery. This research will be essential for the development of new techniques and technologies for neurorehabilitation.
Play Safety Program
The center will launch an innovative "play safety program" to focus on rapid identification, assessment, and care for pediatric concussions and traumatic brain injury. Mount Sinai experts developed an app designed to improve and expedite diagnosis, leading to earlier intervention which can prevent long-term neurological issues.
The center is partnering with public and private elementary schools in New York City and New Jersey and giving them access to this app starting in the fall '21 school year. When students bump their heads or get injured during recess, sports, or everyday school activities, nurses and coaches who are trained on this app will use it to assess functions including eye tracking, heart rate, and balance. Mount Sinai Sports Medicine fellows will help them with baseline assessments in real time.
If they suspect a student has a concussion, the school will instantly send the assessments to the Center through the app and refer the child to the Center for further care. Mount Sinai plans to expand the program to 20 schools in the next 2 years, and double that number within 4 years of introducing the technology.
Generational Youth Mentors Program
Additionally, The Charles Lazarus Children's Abilities Center of Mount Sinai has created a "Generational Youth Mentors Program," collaborating with local non-profit community groups to provide virtual access to educational and social/emotional support for children living in poverty. The pilot program launched during the height of the COVID-19 pandemic and now serves nearly 100 students from kindergarten through eighth grade in New York City and New Jersey public schools.
Mount Sinai-trained teams virtually mentor vulnerable students who need extra help with academics and/or counseling. The mentors, who are high school and college students, have also been trained on trauma-informed learning techniques, which research shows help students retain information in the long term.
The Lazarus family donated funds for this center, giving $5 million in the memory of Charles Lazarus, honoring the spirit of innovation that he lived for.
Charles Lazarus was passionate about bringing joy to the lives of children around the world, which fueled both his career and his philanthropic endeavors in support of children's well-being. As he built Toys "R" Us into a global retail phenomenon, Mr. Lazarus was inspired by the world around him and always driven by a single goal: to put a smile on a child's face.
"We are so proud to be a part of bringing a living legacy to our father (husband, and father-in-law) to fruition in the Charles Lazarus Children's Abilities Center. Our father, Charles, was deeply devoted to bringing joy to children around the world. The Mount Sinai Charles Lazarus Children's Abilities Center will bring hope and healing to children locally, nationally and from abroad."

— the family of Charles Lazarus
[Source(s): Mount Sinai Health System, Newswise]