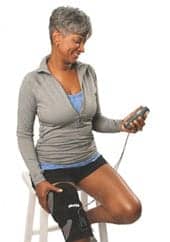 DJO Global Inc recently reported its launch of the electrical stimulator Empi Phoenix, engineered to smooth treatment of muscle atrophy prior to and after total knee replacement or ACL repair. The device is intended to assist patients during rehab by providing simple and effective electrotherapy treatments at various stages in the recovery cycle.
The Empi Phoenix also offers users treatments to assist in managing pain and reducing swelling. A news release from the company notes that the device can also help prepare patients presurgery by treating muscle atrophy in the muscles supporting the joint. It also received a FDA 510(k) clearance in May of this year.
Mike Mogul, president, CEO, DJO Global, emphasizes the importance of addressing muscle atrophy prior to and during rehabilitation from knee surgery. Mogul notes that the Empi Phoeniz is intended as a simple way for patients to engage in rehab from the comfort of their homes. "We are very excited to offer this new therapy option to surgeons, therapists, and patients," Mogul adds.
Michael Levine, orthopedic surgeon, lead researcher of a recent clinical trial designed to assess the effectiveness of electrical muscle stimulation postoperatively, notes that, "When combined with traditional physical therapy, the Empi Phoenix creates an excellent scenario for recovering patients."
[Source: DJO Global]