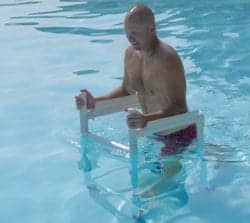 Aqua Creeks Products, headquartered in Missoula, Mont, now markets an adjustable, waterproof walker. The Underwater Walker is comprised of durable PVC tubing and stainless steel swivel casters with solid rubber wheels. The product is designed to provide users assistance in independent mobility in the pool.
The Underwater Walker features armrest cradles to provide additional support and is marketed in two different sizes. The cradles can be attached and removed without the use of tools, the company notes.
The product offers users an adjustable height range of 32 inches to 45 inches. The removable PVC armrest cradles measure 3.5 inches and 4.5 inches. The product can also be converted without the use of tools from standard walker to armrest walker, Aqua Creeks Products says.
For more information, visit www.aquacreekproducts.com
[Source: Aqua Creek Products]