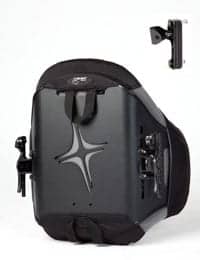 ROHO Inc recently added the AGILITY Max Contour Wheelchair Back to its AGILITY Back System portfolio. The product is designed to complement the AGILITY Minimum Contour and Mid Contour models.
AGILITY Max Contour features adjustable lateral air pads, designed to allow for a more customized fit to the user's individual body shape, according to company news release. The company adds that the adjustments can be made at any time in order to promote added postural support or to enhance user comfort.
A company news release reports that the ROHO AGILITY Backs also feature Zytel, a lightweight, durable plastic composite material by DuPont. The AGILITY Contour Max is available in four widths, 14 to 20 inches, and three heights, which include 16, 18, and 20 inches.
For more information, visit www.roho.com
[Source: ROHO Inc]