The Rehabilitation Institute of Chicago (RIC) recently featured a new neural-controlled prosthetic leg during the Fourth Annual Skyrise Chicago indoor stair climb event. During the event, RIC participant Zac Vawter used the device to climb 103 floors of Chicago's Willis Tower.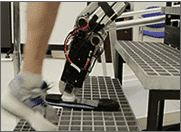 An RIC news release notes that the robotic leg prototype was designed Michael Goldfarb, Vanderbilt University, and has undergone extensive testing at both Vanderbilt University and the Rehabilitation Institute of Chicago. When Vawter pushes down on the device to stand up, he reports that the device reads his intent and pushes back propelling him up. "One of the biggest differences for me is being able to take stairs step-over-step like everyone else … With the bionic leg, it's simple. I take the stairs like I use to, and can even take two at a time," Vawter says.
"There are approximately 600,000 individuals with lower-limb amputation in the United States, and we are hopeful that this neural-controlled technology will allow for more ability and more long-term independence," says Levi Hargrove, PhD, director of the neural engineering for Prosthetics & Orthotics Lab, RIC's Center for Bionic Medicine.
The work completed by RIC's integrated team of clinicians, prosthetists, and engineers are the result of a grant from The Department of Defense Army's Telemedicine and Advanced Technology Research Center (TATRC). The grant is intended to help improve the control of advanced robotic leg prostheses by adding neural information to the control system.
For more information, click here.
[Source: RIC]