Dr Anton Johannesson, CPO, Clinical Manager of Prosthetics at Össur Clinics, has been named a 2020 recipient of the Howard R. Thranhardt Award, which is presented annually by the American Orthotic and Prosthetic Association (AOPA) to recognize individuals committed to advancing O&P education and research, the company announces.
He was recognized for his abstract, "Systematic Procedure in Lower Limb Amputation – the Scandinavian Approach," which he will present virtually during the AOPA 2020 Virtual National Assembly on September 10.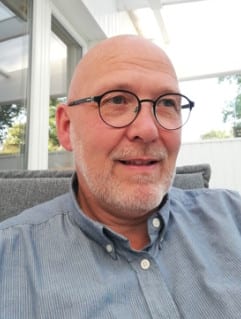 Johannesson began his career as a shoemaker in Iceland and completed his education as an Orthopedic Shoemaker in Sweden. He earned his CPO certification upon graduating from the University of Jonkoping in Sweden and completed his PhD in Orthopedics from the University of Lund, Sweden.
His clinical contributions to the O&P profession have positively impacted the lives of amputees around the world, leading to the pioneering development of Össur's patented Rigid Dressing (ORD), and the use of a post-operative silicone liner as compression therapy after transtibial (TT) amputation.
As reportedly one of the first clinicians to employ pressure casting for transtibial amputees, he also co-developed the revolutionary Direct Socket system, which today is utilized for both transfemoral as well as transtibial amputees worldwide. The results of his work led to the establishment of a standardized protocol for post-op treatment of TT amputees, which remains in effect at hospitals in Sweden and many other countries, a news release from Össur explains.
Researcher and Company Founder
Prior to joining Össur, Johannesson was the founder, partner and CEO of Orthopedic Technology Inc in Kristianstad, Sweden. At Össur, he continues to explore new prosthetics techniques and technologies and conducts research within the company's clinical and R&D operations, working with clinics all around the world.
Dr Johannesson has delivered over 80 clinical presentations in 20 different countries. He has published 10 articles in international O&P clinical journals, as well as contributing numerous articles to clinical peer-reviewed journals published in Iceland and Sweden.
"We salute Anton for this tremendous honor and are pleased that AOPA has chosen to recognize his truly extraordinary contributions to O&P clinical practice. His work has directly allowed clinicians worldwide to help countless people with limb loss and limb difference truly live a life without limitations," says Jon Sigurdsson, Össur's President and CEO, in the release.
[Source: Össur]
---
Related Content:
Össur Launches Empower App for DMEPOS
These New Prostheses from Össur Are Designed for Less Active People
Össur Launches the Unloader One X Knee Brace