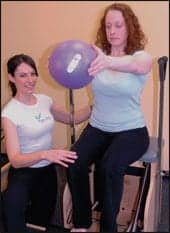 Alison Lichy, PT, DPT, NCS (left), cues her patient for dynamic core stabilization on the Wunda Chair, emphasizing disassociation of the extremities from the trunk.
You hear the word "stroke"—quick, what image pops in your head? A senior, someone who moves to a slower beat? The buzz in the trenches is times are changing, or as a stroke program coordinator at a Primary Stroke Center in Los Angeles, accredited by The Joint Commission, says: "Strokes are getting younger and younger." Some 4 million people in the United States have had a stroke. About 30% of strokes hammer those younger than 65, which amounts to some 225,000 people in the United States under 65 annually. Overall, for those who have had a stroke, more men over the age of 45 have had strokes than women. But when you look at people under 45, more women than men have had strokes. Strokes kill more than two times more women than breast cancer does.
"The face of stroke is changing," says Laurie Paletz, RN-BC, stroke program coordinator, Cedars-Sinai Medical Center, Los Angeles, a registered nurse for 28 years. She tells of the demise of the initial prototype of the hospital's glossy promotional stroke-prevention posters that were destined for broad community outreach and depicted older folks. "I said, 'It's not going to work. These people are old and have gray hair and wrinkles. I have news for you. Let me walk you through our stroke unit. This is not the face of stroke. The face of stroke is a lot like looking into the eyes of a 40-year-old.'"
HANDS-ON, WITH WORDS
Aphasia is often one of the life-changing residuals of stroke. Some 1 million people in the United States have aphasia, and about 100,000 are affected by it annually, says Janet Brown, MA, CCC-SLP, director of Health Care Services in speech-language pathology, American Speech-Language-Hearing Association (ASHA), Rockville, Md. Speech-language pathologists help restore damaged pathways such as verbal communication, comprehension of language, reading and/or writing, dysphagia (swallowing problems), and dysarthria (slurred speech), alone or combined. Some patients have chronic aphasia, a residual problem that does not resolve in the acute period. They do not have intellectual impairments, but because their language is affected, people may wrongly assume they are also intellectually or cognitively affected. The National Aphasia Association provides a card much like a medical alert bracelet, to explain for those who cannot.
Some community stroke programs nationwide feature a life-participation approach, offering social and continuing therapeutic and educational resources for group therapy in real-communication situations long after the first few months or years into recovery, Brown says. Because insurance coverage for intervention typically lasts only for the first few months of recovery, these programs often entail a private-pay model, or a benefactor underwrites an outpatient center—such as the Stroke Comeback Center, Vienna, Va, which takes private pay on a sliding scale, and donations.
TIPS FOR CHOOSING A SUITABLE MOBILITY AID
In the past decade, the number of people who became injured while using mobility devices such as canes, walkers, wheelchairs, and scooters has more than doubled, says Elizabeth Bullard, OT, noting that more than 100,000 people were treated nationwide for injuries related to wheelchairs and other mobility devices last year. Malfunction may not be a factor; many choose the wrong devices for their needs or use them incorrectly. Bullard, director of case management/patient assessment information coordinator, Northern Colorado Rehabilitation Hospital in Johnstown, Colo, helps people with walking impairment to find and use the proper mobility device. She offers the following safety guidelines:
Use the right device
Train to use the device correctly
Plan your route in advance
Avoid "Mobility Under the Influence" (MUI). Before operating a mobility device, patients should make sure their medications will not impair their ability to use a device safely.
Care for the chair—Most routine maintenance and repairs can be completed at home by patients and care providers. Most mobility devices also need professional service maintenance every 6 months.
—JO
Recent theories on neuroplasticity say stroke survivors should communicate as much as possible to force the reorganization of the brain, enhancing the ability to recover communication functions. With the influx and diversity of new languages being spoken as a first language by ethnic populations in many communities nationwide, and a shortage of therapists who are bilingual, trained interpreters may serve as go-betweens. "We really need to know how the person is saying what they're saying in their native language, not to have it sanitized by an interpreter who is trying to cover for the person in a very well-meaning attempt to make the person sound better," Brown says. "It's particularly challenging." ASHA's Web site offers a directory of providers who speak different languages.
Sometimes, geographic distance cannot be bridged. With a shortage of SLPs in the United States, ASHA supports telepractice when the quality of the service is equivalent to what it would be face to face, Brown says. Medicare does not recognize SLPs as eligible service providers, so they are not being reimbursed for it. Some other payors are paying for it, and in schools it is being used more widely. "We're sort of waiting for the reimbursement world to catch up with it," Brown says. ASHA has backed legislation to add SLPs to the list of eligible providers and language has been submitted for the Medicare bill due in 2009, Brown says.
WELCOME HOME
Determining how clients, whether partially ambulatory or using a wheelchair, enter/exit the home safely may be one of the first considerations. Some clients need a wheelchair for assistance, and doorways must permit entry to the bathroom and bedroom, and from room to room. Occupational therapists may recommend low-pile carpet, removing under-rug padding and nonessential rugs, securely taping down throw rugs, and removing or lowering thresholds to minimize or grade transition from one surface to another, says Karen C. Smith, OT/L, a staff member at the American Occupational Therapy Association (AOTA), Bethesda, Md, who oversees home modification issues with the organization's external partners and members. She also volunteers with Rebuilding Together (www.rebuildingtogether.org), a national nonprofit group whose network of 200-plus affiliates furnishes free home modifications and repairs for low-income homeowners who are disabled and for seniors; many are stroke survivors.
Outdoor railings, which may be indicated on both sides of the steps, must be secure. Often a front entrance has an additional step that must be mounted to enter the house, and a vertically mounted handhold attached to the door frame on the open side of the door may be useful too. Budget limits may pose challenges, but for those who can afford it, Smith says a zero-step entrance, which requires regrading the yard, is an esthetic plus. A lift is another option, positioned in the back or in front of the home. Ramps are an option as well. "However, if somebody is ambulatory, steps may be the best option" Smith says. "For someone who has a balance problem or uneven motor control, walking down a ramp can be more challenging, unless it's a really low grade."
HELP IS A MOUSE-CLICK AWAY
Resources pertaining to aphasia:
Resources for stroke survivors:
To find a speech-language pathologist in one's area, or a bilingual SLP: http://www.asha.org/findpro/
Get With The Guidelines, American Stroke Association: [removed]www.strokeassociation.org/presenter.jhtml?identifier=3002728[/removed]
It helps guide quality improvement of acute stroke treatment and ischemic stroke prevention. The program focuses on care-team protocols, and is available for implementation at acute care hospitals nationwide. The guidelines-based treatment is routinely evaluated with a Web-based tool called the Patient Management Tool (PMT).
Stroke Trials Registry: www.strokecenter.org/about.htm
The Internet Stroke Center, a nonprofit, educational service of the Stroke Center at Barnes-Jewish Hospital, Washington University Medical Center, and the Cerebrovascular Diseases Section of the Department of Neurology at Washington University School of Medicine in St Louis, helps to broaden understanding of stroke research and clinical care. Information on the site is culled from published accounts, meeting presentations, direct correspondence, and Internet searches.
AOTA has a fairly new portfolio-based environmental modification specialty certification: www.aota.org/Practitioners/ProfDev/Certification.aspx
Rebuilding Together, a national nonprofit group whose network of 200-plus affiliates furnishes free home modifications and repairs for low-income homeowners who are disabled and for seniors; many are stroke survivors: www.rebuildingtogether.org
—JO
A bedside commode aids clients who cannot visit the bathroom. The bathroom door can be widened with a swing-away hinge, which yields almost two extra inches. A grab bar by the toilet is helpful on the unimpaired arm/hand side; if the person can use both hands, grab bars on both sides are good. Replacing a too-low toilet with a comfort-height toilet, adding a Toilevator to the base of the toilet, or adding a toilet riser, which may include built-in molded armrests, is useful. A three-in-one commode can be used by the bedside or in the bathroom. Taking a seated shower on a shower chair, or transfer tub bench—which may be safest for someone who has had a stroke—fosters safety, depending on the patient's mobility. A vertical grab bar is commonly installed on the end of the tub where the person steps in, near the showerhead—and a horizontal bar is on the adjacent side, near the seat. A long-handled showerhead may be mounted on a sliding bar, a grab bar, a notch on the tub bench, or a clip on the shower wall—to avoid a blast of water in the face. A higher-cost option is replacing the tub with a zero-step shower, a roll-in shower. An older caregiver might not provide much physical assistance, but can be on hand for safety and cueing, Smith says.
Risers such as EasyRisers that come in 2-, 3-, 4-, and 5-inch heights raise the height of chairs, sofas, and beds to make them easier to get out of. In the kitchen, a work surface at a height that enables someone to be seated on a sturdy stool is useful. Sensory issues post-stroke, such as a vision deficit or impaired sensation in the extremities, or if safety concerns are involved, may require adaptive equipment. As with bathroom and dressing adaptive equipment, a therapist is helpful in choosing the proper items and learning how to use them.
GET IN LINE
Stroke survivors can strengthen core postural and deep torso muscles with the practice of Pilates. Stroke impacts the trunk, compensation patterns are quickly learned, and patients' awareness about their bodies is altered, says Alison Lichy, PT, DPT, NCS, Neurological Physical Therapy PLLC & Evolution Pilates, Alexandria, Va. "You need core stability to disassociate your extremity movement from your trunk," she says. "Patients gain a better understanding of their bodies with Pilates, and they enjoy it." Post-stroke, she recommends Pilates beginners learn the regimen from a therapist rather than joining a community-based program. It is a slow integration but a constant improvement into return to function, she says, noting that for many, the practice becomes a lifelong tool.
"Pilates is self-correcting," she says. Pilates fosters rewiring of the brain, shunning compensation patterns through use of fluid movement patterns. "I've seen a big effect in decreasing tone, because now [patients] are in better alignment. They're weight bearing more through their trunk, their pelvis, their leg, their ankle, even their arm. They're using their arm outside of synergy through different movement patterns," Lichy says. She tailors movement variations, progressions, challenges, patterns, and stresses to patients' needs.
Pilates addresses other secondary complications of a stroke. Many stroke survivors have breathing problems because their core control lacks efficiency; restoring controlled breathing boosts efficiency. "Their posture is better, they are more aligned, they feel more balanced, so they're going to feel more confident," Lichy says.
Osteoporosis can create complications down the road due to lack of weight bearing, but Pilates equipment offers assistive and resistive exercises. Lichy's practice uses the Reformer, Wunda Chair, Wall Unit, Trapeze Table, and Barrel. PT-oriented exercises such as bridging and quadriped can gain oomph with a Pilates spin—via breathing, postural control, focus, and alignment awareness.
Megan Brown, PT, DPT, Lichy's partner, performs Hatha yoga therapy with stroke survivors, varying methods depending on the impairment. She starts patients off with a Pranayama home exercise program to enhance breathing and trunk stability. Some patients branch out to practicing tai chi in community programs, splicing in their Pilates awareness principles of alignment, posture, and breathing control.
THE GIFT THAT KEEPS ON GIVING
Many support groups link older stroke survivors, but Gen X- and Y-ers may feel alienated. Terri Lukomski, CTRS, at Cedars-Sinai Medical Center, Los Angeles, spearheaded efforts in 2007 to establish "One Stroke Ahead: Young Person's Stroke Support Group" at Cedars, for people who are 18 to 55—and their families. Working with neurologically impaired patients for 15 years, seeing a higher preponderance of young people, and the plea of a 20-something in the facility's all-age stroke support group led to the epiphany. "He had his first job, and it changed," Lukomski says. "Either the job is adapted or, I would say, more than half don't go back to that original job. The world moves very, very quickly, and stroke takes a long time to recover from." Patients may recover substantially in the first 6 months, but recovering speed of processing may unspool for years. "The world isn't going to wait," she says.
Younger stroke survivors may present at a much higher level than their older counterparts. "They know inside that they're having some difficulty with their memory, and it's frustrating. Or they're having difficulty with their speed of processing, and maybe a friend or a family member is frustrated too, and wants them to be back the way they were," she says. "They need to connect with people who really get the fact that they just can't."
Lifestyles may differ too. "They have a young family, young children, they have a job, they were the breadwinner, and they have a different impetus to get back to a moneymaking job," Lukomski says. Many try new activities or try on new roles, and the group is a networking gold mine. In recent meetings, talk has centered around medical management and new combinations of medicines that improve the quality of life.
Lukomski's colleague, Laurie Paletz, RN-BC, has been Cedars' stroke program coordinator for about 3 years. She says group support may not be one-size-fits-all. "It is very difficult and challenging when you have a 22-year-old in that setting with an 80-year-old, because the issues, the concerns, and the worry are so different—somebody who's maybe dating as opposed to somebody who's been married for 40 years," she says. "When you have a 36-year-old father with little kids and the kids want to go out and play, and daddy or mommy has to say, 'Daddy can't play the way he used to'—that's a devastating thing for the whole family. This didn't just happen to John, it happened to John's whole family."
---
Judy O'Rourke is the associate editor of Rehab Management. O'Rourke can be contacted at .