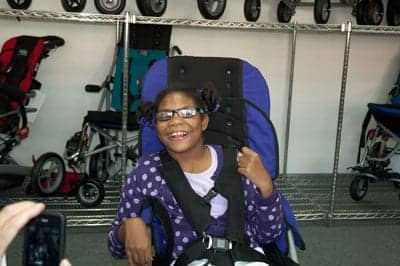 Convaid, headquartered in Torrance, Calif, reports that it recently aligned with United Cerebral Palsy (UCP) of Los Angeles in recognition of National Developmental Disabilities Month (NDDAM) to donate a custom wheelchair to a young girl. Ronald S. Cohen, president and CEO, UCP, states, "When Convaid approached UCPLA about coming together to celebrate National Disabilities Month, it provided an opportunity for our two organizations to align our missions for the benefit of individuals with developmental disabilities and their families, who overcome incredible challenges every day," Cohen says.
Convaid notes that it has supported the efforts of UCPLA and UCP Wheels for Humanity for many years. To celebrate NDDAM, Convaid reports that it wanted to donate a custom fitted Convaid Cruiser to a child with developmental disabilities.
According to a recent news release, Terri Lantz, UCPLA's Client Rights Advocate and leader of the UCPLA Westside Parent Support Group, assisted in connecting Convaid with Jan Bowers Thomas and her daughter Samantha, aged 9 years, (pictured above right) who has a developmental disability. The release reports that the child's current wheelchair did not fit in Thomas' car and made it challenging for transport to doctor's appointments and other daily activities.
Chris Braun, president, Convaid, emphasizes that, "It is very special to us that we were able to help Samantha and her mother. This is a wonderful example of two organizations that can work together to bring a child more independence and help bring awareness to developmental disabilities such as cerebral palsy."
Source: Convaid