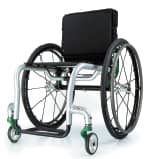 Sunrise Medical, headquartered in Fresno, Calif, reports in a recent news release that it has launched new web and mobile sites. The company notes that its revamped site, www.SunriseMedical.com, is designed to provide individual log-ins for consumers, product suppliers, and clinicians. Once a log-in has been created, the release reports that individualized landing pages serve as "one-stop-shops" for all of the most commonly used links and resources for each visitor type. The website also includes new features, photos, and content intended to ease site navigation, production selection, and information sharing.
"We are very excited to offer a personalized web experience. Our refreshed website is a reflection of our commitment to provide inventive and high-quality service at all levels of our organization," says Michael Proffitt, vice president, product management and marketing, Sunrise Medical.
The release notes that the site offers a Help Me Choose guided product selection section and access to consumer reviews on the Product Reviews page. The site also introduces a new Compare Products feature, designed to allow site visitors to select up to three products to view side-by-side, comparing features and options. The site's expanded Literature & Order Forms page and new Video Library are built to allow users to easily find, download, and view product order forms, brochures, owner's manuals, parts manuals, and product videos.
Sunrise Medical reports that in addition to its new site, it now has its own mobile site and app. The company notes that its mobile site and SunMed App are designed to provide the latest Sunrise news to visitors while the application's simplified layout aims to offer faster clicking capabilities to view products, documentation, and resources.
For more information or to register, visit www.SunriseMedical.com.
[Source: Sunrise Medical]