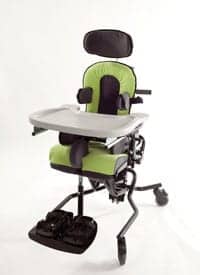 A new positioning system targeting support, stability, comfort, and function is now available through Ottobock, Minneapolis. The Everyday Activity Seat is designed to provide stability for users aged 1 to 18 years who require moderate postural support.
The product features a hi-low base that adjusts to accommodate easy floor transfers and is reported to provide an ideal height for a desk, television, or dining room table. The product also features a four-point pelvic harness to optimize pelvic positioning, two chassis, a range of accessories, and removable, machine washable cushion covers available in three colors.
The Everyday Activity Seat is available in three sizes that accommodate up to 220 pounds, according to the company.
For more information, visit www.ottobockus.com.
[Source: Ottobock]