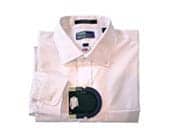 Self-buttoning shirt aims to accommodate individuals with limited mobility or dexterity using magnets. The patent pending MagnaReady line of self-buttoning dress shirts is designed to assist individuals with arthritis, Parkinson's, and others living with limited mobility or dexterity in buttoning their shirts.
The MagnaReady dress shirt is infused with a magnetic closure system, which links together for a secure closure and is hidden inside the placket of the shirt, according to the company of the same name. The product also features decorative buttons on its exterior and is reported to be wrinkle-free and stain resistant with barrel cuffs and a spread collar.
The company notes that the dress shirts are currently available in men's sizes S to XXL and a line for women is currently in development.
For more information, visit www.magnaready.com
Source: MagnaReady