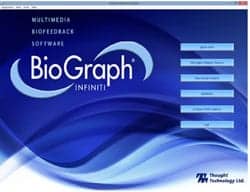 Thought Technology Ltd is slated to hold on-site workshops to allow users to train with the company's Biograph Infiniti v 6.0. The device is engineered with a variety of usability features, a new look and feel, new sound engine, and a comprehensive set of computations. Thought Technology notes that each course has been approved by the BCIA to provide 7 hours of Category A accredited continuing education for BCIA recertification.
The one-day workshops, which run from 9:30 am to 4:30 pm, are intended to provide researchers and health professionals who wish to learn how to use the biofeedback technology. The company notes that the event's morning session is intended to offer an overview of key features of the BioGraph Infiniti software and hardware.
The device's add-ons and specialized application suites scheduled to be showcased include EEG, physiology, rehab-continence, rehab-muscle, Z-Score, reaction time, and the HRV Module and BioFun Games.
The afternoon session is designed to show participants how to use the device's sensors, which include surface electromyography (SEMG), respiration, temperature, skin conductance, electroencephalography (EEG), heart rate, and electrocardiology (EKG) with audiovisual multimedia biofeedback screens and video games.
According to a recent news release, the early registration deadline for the April 26 workshop is April 12. For May 24, early registration deadline is May 10; for the June 28 early registration runs until June 14; the early registration deadline for the July 26 workshop is July 12; and the deadline for the August 30 workshop is August 16.
To register, click here.
Source: Thought Technology Ltd