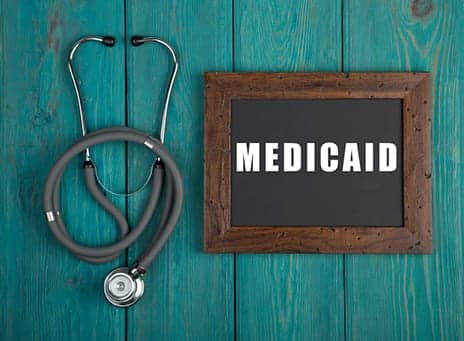 Z56 and Z59 codes — which indicate issues with employment and with homelessness/food insecurity/other social needs, respectively, among Medicaid recipients — need to be used by clinicians more often in order to connect patients to the help they need, according to the Institute for Medicaid Innovation, in a recent report.
"With the use of the Z codes, ICD-10 can capture information related to an individual's living and social environment, educational attainment, adverse childhood events, and other psychosocial circumstances," write authors Lekisha Daniel-Robinson, MPH, and Jennifer E. Moore, PhD, RN, on Medicaid managed care plans' involvement with social determinants of health (SDOH).
"However, the codes are currently widely underused, which limits opportunities to reliably identify and respond to social needs," they add.
The World Health Organization defines SDOH as "the conditions in which people are born, grow, live, work and age."
Although it has become a buzzword in Medicaid policy circles, "we noticed a lot of discussion barely touching the surface of the topic," Moore, the institute's executive director, says in MedPage Today. "We figured there was something more to dig deeper into."
Many Medicaid managed care plans, as well as state and local agencies, are increasing their efforts in this area. For instance, the Upper Peninsula Health Plan in Michigan has established a call center to connect members to non-health resources in their community. The call center uses college student volunteers to staff the call centers — using volunteers is one way to address the persistent underfunding that remains a problem with SDOH efforts.
"I wasn't surprised at the level to which state Medicaid agencies, health plans, and clinician groups, were working on [these issues]," Moore says. "What was interesting was there is limited funding for this. Everyone agreed it's a really important topic and they were looking for ways to partner and work together, but there isn't a sustainable financial model for this; who pays for it? It's a real challenge, and I think Medicaid agencies will have to address [that] as they continue to make this a priority."
The Z codes are relevant to another problem plans have as they try to figure out their patients' needs — a lack of standardization for data collection.
"Even within a small community, if you have different community organizations using different forms or collecting different measures, it makes it hard to figure out where you're at and where you need to go, because you're not comparing apples to apples," Moore continues. "So there is a need to really think about what nationally standardized measures can be used across the board so we're all talking the same language."
North Carolina is attempting to address this problem; beginning later this year, the state's Medicaid managed care organizations (MCOs) will be required to adopt standardized social needs screenings, the report notes, according to MedPage Today.
"Standardized universal screenings will be required to occur within 90 days of enrollment and will assess food, housing/utilities, transportation, interpersonal safety, and urgent needs. This information will subsequently be shared with enrollees' primary care providers. The MCOs will be required to provide in-person assistance to enrollees with accessing community-based resources — including legal support and housing."
Moore explained that often the Centers for Medicare & Medicaid Services (CMS) will take the lead in these scenarios to discuss what specific quality measures they'd like to see in Medicaid programs, then work with the National Quality Forum (NQF) to see if a specific measure has been validated and can be endorsed. If that occurs, the National Committee for Quality Assurance could potentially consider it for standardized quality measures.
Clinicians have other problems with acting on SDOH issues, Moore shares.
"When we talked with clinicians, one of their biggest challenges they encountered — and I also do as a clinician myself — is that oftentimes referral information is outdated, so if you do an assessment and recognize that a patient has a housing need and you have a resource to give them, the patient says, 'Great; I'm really excited — maybe this will help me,' and then they take the [information] home and make calls and find out there's no space," Moore says. "They don't communicate to the clinician that there's a barrier; they just assume there's no other option. So it becomes a real issue with coordination."
The report seems to do a good job of taking stock of the need and what current efforts are being made in Medicaid to address social needs, Tricia Brooks, MBA, senior fellow at the Georgetown University Center on Children and Families in Washington, writes.
One problem with the current approach, she adds, is that "much of the effort is focused on addressing individual needs, particularly individuals who have complex and high-cost health needs. We have been working on bending the cost curve in healthcare for a very long time. And the fact that Medicaid is addressing social needs is progress."
[Source: MedPage Today]