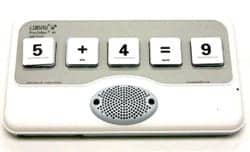 The LOGAN PROXTALKER speech generating device now offers users the ability to create personalized SoundTags. The device reportedly includes 80 SoundTags with pictures and sounds, and according to a company news release, a special SoundTag set the combines picture and sound is now available for use in all classrooms.
The District 75 Educational SoundTag Set offers users 26 upper and 26 lower case letters, seven mathematical symbols, 21 numbers from 0 to 20, and the District 75 "Give me 20" AAC Vocabulary, featuring new 20 new words including need, hi, bye, you, help, want, more, stop, no, yes, there, finished, bad, good, me, do here, bathroom, I, and wow. In total, the company reports that the set includes 100 pre-programmed tags with pictures and sounds.
The tag set is a collaborative effort with District 75 in New York City. District 75 is a citywide program geared toward providing educational, vocational, and behavior support programs for students.
The release notes that the additional tags are intended to offer individual users and classrooms the opportunity to further communicate as well as learn the alphabet, numbers, math, and reading.
For more information, visit www.proxtalker.com
Source: ProxTalker.com, LLC