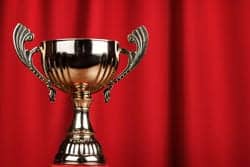 Ottobock CEO and president Hans Georg Näder recently received the honorary lifetime achievement award at the AOPA World Congress. The award recognizes Näder's commitment to progress in medical technology, Ottobock notes in a company news release.
The Minneapolis-based company states that Näder, grandson of its founder, has been leading the company since 1990. Näder calls the honorary award, "the best confirmation I can imagine that the entire Ottobock family, with its 7,000 employees, is on the right track."
Under Näder's leadership, Ottobock notes that its international network has expanded with subsidiaries in 50 counties of the world today. Ottobock has been active in the US since 1958. Näder also gives lectures as a guest professor in Beijing and Götten.
In the past, Näder has also received Germany's Entrepreneur of the Year in 2003, and additional awards in 2005 from the State Prize of Lower Saxony and honorary citizenship of his hometown of Duderstadt in 2011.
[Source: Ottobock]