True to the theme of "All In," this year the Numotion National Leadership Conference (NLC) was extended to reach the entire company. While 600 employees descended on the Hilton Anatole in Dallas, all employees were encouraged to join the meeting via a live webcast.
The NLC is used as an opportunity to update, teach, and inspire ATPs and Specialty Account Managers. However, it takes a full team to meet customers' needs, and every employee–no matter their role–can make a difference. This year Numotion extended the meeting to all employees so that everyone could learn, grow, and be inspired together in order to best serve its customers.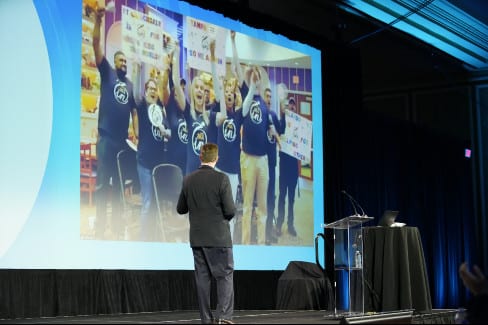 Locations with multiple employees hosted viewing parties and received an "Event in a Box" filled with supplies including a step-and-repeat "All In" backdrop for photos and "All In" T-shirts. Some locations even made signs to show their Numotion pride. Leadership members were also on-site at select locations:
· Gary Gilberti, EVP East, was with teams from Orlando, Tampa, and Fort Lauderdale at Give Kids the World in Orlando to celebrate.
· Tamas Feitel, CFO, and Dan Prestegaard, CIO, visited an energetic group in Rocky Hill, Conn.
· In Hazelwood, Mo, Melissa Georgeoff, EVP Payer Relations, and Tim Casey, Chief Compliance Officer, hosted a special guest – Fred Bird from the St Louis Cardinals!
Employees weren't just watching the conference at their various locations, they were also able to participate. Mike Swinford started the meeting by chatting live with the three locations above, and both Melissa and Tim gave their presentations from Hazelwood. Additionally, when people were recognized at various locations, celebrations were held on-site – complete with celebratory confetti.
Parts of the meeting that were webcast to all employees were:
· Thursday's general session, including Mike Swinford's keynote and presentations from various leaders.
· Friday's awards dinner.
· Saturday's general session, including a customer panel, keynote from Gian Paul Gonzalez, and Mike Swinford's closing remarks.
In total, more than 600 users joined the webcast throughout the event, with many sharing their screens with others. (Viewing parties hosted anywhere from 5 to 50 people.) Employees even hosted viewing parties at homes to watch the Friday awards dinner and Saturday keynote live. It's too soon to say what Numotion will do in 2021, but this year's expanded effort is considered to be a resounding success.
All In Theme
This year, employees were asked to go "All In" to renew everyone's dedication to their customers. In addition to presentations by the leadership team, breakout sessions were offered on a variety of topics, but one theme carried throughout – doing things right. Because when things are done right, everybody wins. Here are some of the compliance-focused breakout sessions that were held:
· Starting the Order Off Right: Conduct Compliant Clinical Evaluations – Attendees learned about ATP scribing and the role an ATP plays in compliant evaluations, including documentation, PTA & COTA vs. PT & OT and more.
· Everyday Ethics for ATP's: Practical Application of the RESNA Codes of Ethics and Standards of Practice – As with any profession, there are Codes of Ethics and Standards of Practice that provide a compass for appropriate behavior. Attendees discussed how to apply the RESNA Code of Ethics and Standards of Practice in everyday situations.
· Documenting effectively using the CMA: Avoid pends and denials to serve customers more efficiently – One of the best ways to reduce downtime in the order process is to complete paperwork accurately. During this session, attendees learned how to effectively and appropriately document things to be approved in the timeliest manner.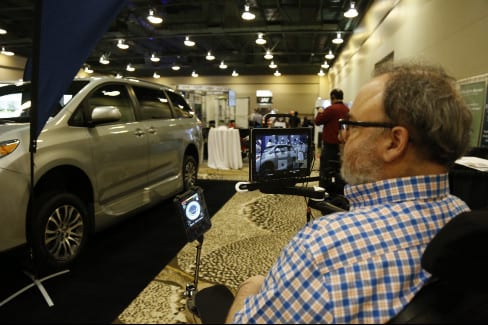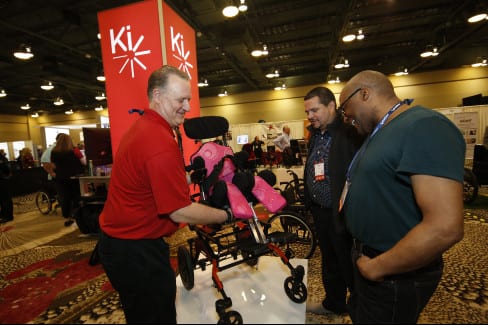 Expo
Every year, a highlight of the event is the Expo featuring providers in the CRT space. This year, more than 65 exhibitors showcased everything from new iDrive technology from Evergreen Circuits and the GRIT Freedom all-terrain chair.
Numotion Foundation Fundraisers
While the team in Dallas once again hosted a wheelchair basketball tournament to benefit the Numotion Foundation, teams across the country hosted their own mini events in support.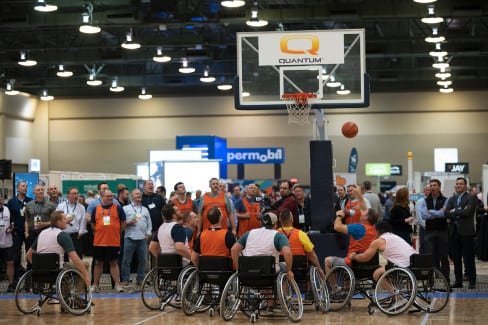 · In Dallas, the combination wheelchair basketball tournament and midway carnival (with games hosted by Expo exhibitors) raised more than $7,000.
· In Apex, NC, and in Rocky Hill, Conn, teams hosted corn hole (or bags) competitions.
· In Hazelwood, Mo, employees were able to bid on silent auction items including a TV, wine basket, and an instant pot.
Although the total number of dollars raised by the teams from across the country are still being calculated, the creativity that the teams put into their efforts was impressive, Numotion notes.
Community Service Events
Numotion also went "All In" on its annual community service project. New this year, all teams across the country were encouraged to take Friday morning to give back to their communities.
In Dallas alone, the team completed three projects: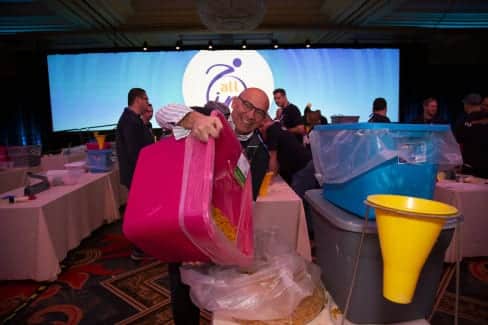 · 400 employees packaged 112,375 meals in just 2 hours for Feeding Children Everywhere at the hotel.
· Teams of 10 built wheelchair ramps at six Dallas-area homes.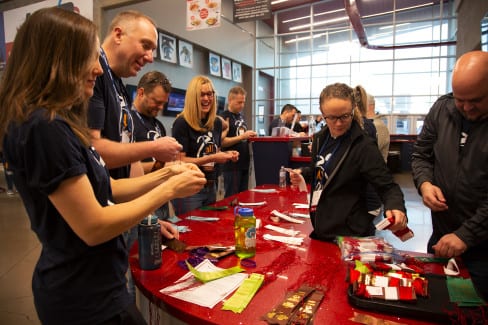 · 150 employees hopped on buses at 6:30 am to serve as the first wave of volunteers at a Special Olympics Texas Volleyball Tournament.
Across the country, teams focused on making a difference in their own communities:
· In Charlotte, the team visited Hinds Feet Farm to help with landscaping, painting, and cleaning.
· The team in Cypress, Calif, created 30+ care packages for military service members of employees and their units.
· In Greensboro, NC, the team fixed wheelchairs at the Gateway Education Center.
· Hazelwood, Mo, employees packaged 50 giveaway bags for an upcoming ALS walk.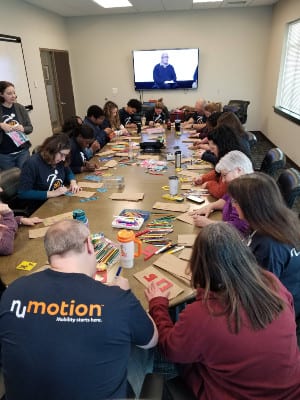 · Children at Ronald McDonald Houses in Las Vegas and Rocky Hill, Conn, received a little extra cheer with their lunch. Teams in both locations decorated lunch bags with positive get-well messages.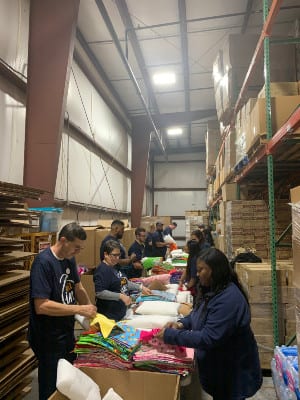 · In Orlando, teams from Orlando, Tamp and Fort Lauderdale stuffed 840 pillows for children at Give Kids the World.
More than 100 locations and 1500 employees participated in Numotion's half-day effort.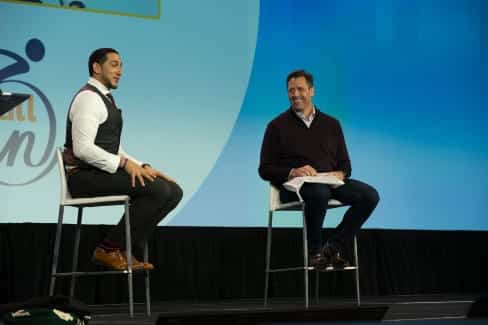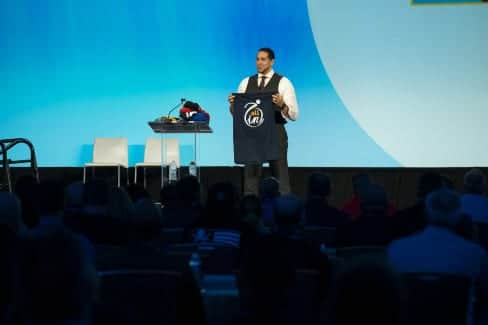 Closing Keynote Speaker – Gian Paul Gonzalez
Gian Paul Gonzalez, a ninth-grade world history teacher from Union City, NJ, may seem like an unlikely keynote speaker. But just as he inspired the New York Giants to a Super Bowl victory in 2012 with two little words, he did the same for Numotion employees. Those two words? All in.
[Source: Numotion]