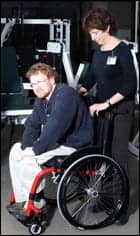 Kathryn San Martino, PT, CLT, NCS (right), of Casa Colina Centers for Rehabilitation, Pomona, Calif, adjusts client Matthew Malley's back cushion.
Although the seating-and-positioning marketplace encompasses a veritable cornucopia of product variety, many rehabilitation professionals find it increasingly difficult to lay their hands on the exact right systems and components for their clients.
Blame that on payors growing stingier with the reimbursement dollars they dispense, complaining therapists say.
"I might win approval from our Department of Public Aid for an $8,000 mobility base and seating system, but then they'll say they are willing to pay only a total of $4,200 for everything," laments Jill Sparacio, OTR/L, ATP, ABDA, owner of Sparacio Consulting Services in Downer's Grove, Ill. "That cap then forces my supplier to make a hard decision about whether the amount being offered is adequate to cover the cost of providing the product. Increasingly, suppliers are having to say, 'No, it is not adequate and we can't afford to provide it.' Many patients would, if they could, make up the difference out of pocket. But my patients—most of whom are severely to profoundly impaired—by and large do not have the resources."
Ginny Paleg, MS, PT, a therapist specializing in early intervention for the public school system in Montgomery County, Md, explains that suppliers can only provide equipment that yields for them a profit. "In Texas, for example, Medicaid gives $800 for a stander, but there are no supine or prone standers on the market that cost that little."
GETTING CREATIVE
Mark Grillo, who works for Sacramento, Calif-based ATG-Wheelchair Center, is a supplier determined to keep seating-and-positioning goods—even the unprofitable ones—available so that therapists can obtain what their clients need.
"With allowables the way they are now, we're forced to be a lot more creative in the way we go about providing things," he says. "Clients may not be able to always get what they want, but we haven't been affected by the reimbursement situation to the point that we can't provide what the client needs —wants and needs being two entirely different things."
To do this, Grillo has adopted the tactic of linking insufficiently reimbursed items to delivery of better-paid—and profitable— products and services. "For example, I might have a request for a certain cushion that pays less than what it costs me to provide," he says. "I might be able to offset that loss if I group the cushion into a more thorough evaluation, which could then lead to the discovery of other products the client needs and maybe also some repairs. I then can include that cushion on the same bill with everything else—things I can provide at a profit. I'm very careful, though, to make sure that the other items and services I group in are legitimately needed."
EDUCATED CHOICES
Much of the seating-and-positioning work performed on behalf of therapists for their clients by ATG-Wheelchair Center in Sacramento, Calif, is paid with dollars from California Children's Services (CCS), a state-run entity. Each California county has its own semiautonomous CCS operation. The one in Sacramento County is known to be conservative in its funding practices, reports Mark Grillo, CRTS, who works at ATG-Wheelchair Center.
Accordingly, Grillo says he spends less time today than in the past when it comes to educating clinicians in and around Sacramento County about product choices. Instead, he devotes more time to educating them about product pricing and profitability. "The need now is for therapists to understand what I can and can't afford to provide—and why," he says. "This is true for therapists who remember the days when Medicaid funded everything requested and usually paid full retail for it."
Grillo finds unfortunate the distrust some have for him when it comes to product recommendations. Occasionally, that distrust leads to financial harm for the client, he says. "One client had his heart set on a particular chair and seating-and-positioning system, but his insurance offered only a fraction of the amount necessary for me to be able to provide it to him," Grillo recalls. "I tried to give him some options so that he could get reasonably close to the system he wanted. The best alternative would have cost him about $600 out of pocket. But he didn't like that. He complained to his therapist that all I was interested in was making money."
The disgruntled client took his business elsewhere. But he fared worse by doing so, Grillo reports. "In the end, he was forced to spend more than $3,000 of his own money," he says.
—Rich Smith
Grillo says he also tries to limit his buying from only those manufacturers with the best pricing and product-selection options. And, in a happy turn of events, Grillo reports that manufacturers—the big ones mainly—are looking to come out with products more attuned to the times. "Manufacturers understand that they too have a stake in selling the product, the same as the dealer does, and that, if the pricing doesn't reflect the realities of today's reimbursements, all of us are going to be hurt," he says, noting that product research and development efforts are beginning to bear fruit in the form of less-expensively made, more coding-friendly wares. "Manufacturers also are working at offering better pricing and terms on volume purchases."
Occasionally, therapists chance to find a supplier who does not mind taking it on the chin in order to meet a seating-and-positioning need. However, these acts of charity are not always motivated by selflessness; rather, they are undertaken to advance a business interest. There is nothing wrong with that, says Sparacio, because it results in her patients getting something that might otherwise be beyond their reach. She explains the dynamic this way: "I see most of my patients at a large facility that has a census of about 600 developmentally disabled individuals. One of my suppliers has a very good relationship with that facility. The supplier wants to keep that relationship strong, so he's willing from time to time to provide products at a loss to himself. His thinking is that it's worth it to do so because the facility is such an important customer."
MOTHER OF INVENTION
Even when dealers bend over backward to accommodate therapist requests, products to suit a particular need are not always available for the simple reason that the desired items do not exist. At that point, necessity becomes the mother of invention.
"I know of a physical therapist in New Jersey who came up with the idea for a headrest that offered better support than anything she could find on the market," Paleg tells. "She shopped her idea around and was able to interest a manufacturer in it. Her headrest idea was then turned into an actual product. As of right now, most of the sales are occurring in Europe. But those sales are doing very well."
Usually, however, innovators are not looking to market their ideas. They just want a one-time fabrication to meet an individual client's need. The first place they are apt to turn for help is a supplier outfitted with a repairs-and-modifications shop. But Grillo frets about the ramifications of having suppliers cobble together products even on a one-off basis. "The FDA could come along and—as has happened not far from here—shut a dealer down for acting in the capacity of a manufacturer rather than a supplier," he says. "Suppliers also run the risk of liability in the event a seating-and-positioning product they made for a clinician somehow resulted in injury to the end user."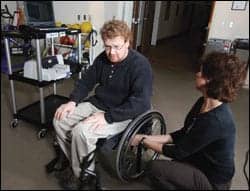 Kathryn San Martino, PT, CLT, NCS (right), ensures Matthew Malley's perfect positioning with the assistance of a seat-mapping system.
The difficulties therapists encounter in obtaining products they need could grow in the years to come should payors turn more miserly still—precisely what they are poised to do, observers warn. "The insurance companies follow the lead of Medicare, and right now Medicare is under pressure to further reduce costs," says Larry Rice, chief operating officer of In Home Products, Dallas. "In fact, the pressure to reduce costs is going to grow stronger as time passes. Every year, there are more and more Medicare beneficiaries and fewer and fewer younger workers to fund the program with their tax dollars. So, the only way for Medicare to avoid going broke is for workers to pay more into the system or for benefits to be reduced or for reimbursements to be cut further. Of those three options, the least troublesome politically is further cuts in reimbursement rates."
Paleg, on the other hand, is not so sure that Medicare and other payors are immovable when it comes to appropriately funding the seating-and-positioning needs of beneficiaries. "From my experiences with the Centers for Medicare and Medicaid Services, the sense I get is that CMS will work with us on trying to make sure the client can be provided with the product we specify if only we therapists will do a better job showing the evidence-based reasons why a particular seating-and-positioning arrangement would be the most advantageous for the client—and the most cost-effective from CMS's standpoint," she says.
But in order to proffer the kind of evidence to which CMS seems to respond favorably, clinicians will need to dedicate more time and effort to participation in larger-scale, randomized double-blind studies, Paleg asserts. "We have to quit saying it's impossible to engage in high-quality studies of this magnitude—studies where we have more than 10 subjects in the cohort. True, in the pediatric world, it's a problem to be able to find schools that have sufficiently large clusters of kids who can be studied for the day-to-day issues we have when it comes to wheelchair seating and positioning. I think we can overcome this if we somehow develop more effective ways of bringing together the people who have the large patient populations with the people who have the skills and funding to engage in high-quality research projects. The solution in part will require that we at the clinician level become more visible to those with the research skills."
BRIDGING THE KNOWLEDGE GAP
Another reason client seating-and-positioning needs go unmet, say some therapists, is simply that, in many instances, not every option is known and explored. "Therapists can't possibly be fluent in all the products that are out there—they just don't have the time to research the marketplace," says Paleg. "Like most of my colleagues, I get maybe 90% of my education about products from my vendor—and I'm seeing only what my vendor decides to show me. I'm happy that the vendor is showing me six different headrests, but I haven't seen the other 20 that possibly are out there, of which some unknown number might turn out to be perfect for my client. And, in all fairness, maybe my vendor hasn't seen that other 20 either."
When Sparacio first entered the profession, she was very dependent on her suppliers' knowledge of the seating-and-positioning market to guide her toward the right products. Today, she relies much less on their product advice. "Ever since I started teaching seating and positioning, I've become more aware about what's out there," she says. "I attend events such as the International Seating Symposium and MedTrade on a fairly regular basis as part of my role of educator."
Rice believes that therapists frankly would do well to become as informed as possible about product choices in the seating-and-positioning category. "The more educated you are about the products, the more likely it is that your client will receive exactly what they need," he says.
Rich Smith is a contributing writer for  Rehab Management.