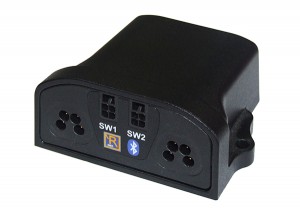 The R-net multi-module control system made by Curtiss-Wright for rehab-type power chairs is set to expand its functionality with the launch of Bluetooth Module for iDevices, a Bluetooth-based communications module designed to enable wheelchair users to control their iPhone, iPad, or iPod touch using any of PG Drives Technology's R-net Input Devices.
A media release from Curtiss-Wright states that the PG Drives Technology's Bluetooth Module for iDevices has been designed to work with all existing R-net Modules without the need for firmware upgrades. It reportedly can be operated by any R-net Input Device including hand-, finger- and chin-operated joystick modules and the Omni specialty control interface. It can also be fitted in conjunction with existing R-net Bluetooth modules to allow one system to control iDevices and Android-based smart devices or Windows PCs.
Furthermore, Curtiss-Wright reports, the R-net Bluetooth Module for iDevices works in association with the Switch Control or VoiceOver features in the Accessibility settings of Apple's iOS 7 operating system. With Switch Control or VoiceOver operation enabled, external switches can be assigned to a list of iDevice functions. As a result, commands via R-net Input Devices, such as Speed Up/Speed Down and Joystick deflections, are identified as switch commands and can be assigned to commonly used iDevice functions including Select, Home, Previous or Next.
With Switch Control turned on, normal navigation of the iDevice is unaffected meaning normal touch screen operation is still active. With VoiceOver active normal touch screen operation is modified.
Pairing between the R-net Bluetooth Module for iDevices and any Bluetooth-enabled iDevice running iOS 7 is intuitive and easy to set up. Once configured, it remembers paired devices and remains operational within a 5-meter range of the mobile device.