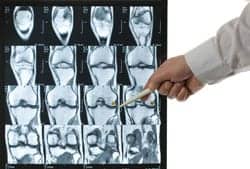 Orthopedic device company Soft Tissue Regeneration Inc has reportedly been issued a US Patent 8,486,143, for its new device engineered to promote soft tissue regeneration of the anterior cruciate ligament (ACL) of the knee. The L-C Ligament, invented by Cato T. Laurencin, MD, PhD, is a bioresorbable scaffold designed to regenerate knee ligament tissue post-ACL reconstruction surgery.
The company notes that the technology is engineered to use a clinically proven degradable polymer called poly(L) lactide acid (PLLA) to address risks and morbidity linked to allograft and autograft tissues. The technology also requires no harvesting of patient's tendon.
The L-C Ligament is intended to encourage the regeneration of the patient's own ligament tissue. A company news release reports that results from large-scale animal testing at 1 year and longer suggest the L-C Ligament can successfully regenerate a native ligament intra-articularly.
The release states that Soft Tissue Regeneration Inc has also facilitated the enrollment of its first patient in a clinical trial of the L-C Ligament. The company reports that the patient was implanted on June 18, 2013 and has recovered well and started physical therapy.
The device is currently available only as part of the company's clinical trial. It is considered investigational and is not yet available for use or sale in the US or European Union.
[Source: Soft Tissue Regeneration Inc]