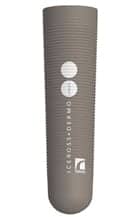 A silicone prosthetic cushion liner intended to provide softness and gentle skin contact is available through Össur. The Iceross Dermo Cushion liner with Wave offers users a combination of DermoGel silicone with an elastic Supplex fabric cover designed to provide durability and an intimate fit for users, as well as the company's Active Skin Care ingredients.
The product's wave feature is engineered to make the liner easier to flex at the knee, allowing it to adapt more to the user's movements.The reduction of resistance is intended to translate into less energy required by users to flex the knee.
The company recommends using the Iceross Dermo Cushion liner in conjunction with its new Iceross Sleeve and Icelock 500 Series.
Össur adds that the Iceross Dermo is available with the Wave feature, and also in Iceross Dermo Locking Liner and Iceross Dermo Seal-In Liner.
For more information, visit www.ossur.com
[Source: Össur]