BI Medical LLC a provider of Apocrine, a deep cleaning prosthetic liner coating clinically proven to reduce skin irritation and odor, announces it is rebranding the product as The Liner Wand, targeted toward the direct-to-consumer market.
Apocrine features patented titanium-based technology designed to help clean prosthetics quickly and easily while delivering a deeper clean that lasts up to 2 weeks with one application. The single thin-film coating of Apocrine solution creates a protective barrier that helps decontaminate the liner or skin fit and remove the bacteria by-products that cause odor and skin irritation.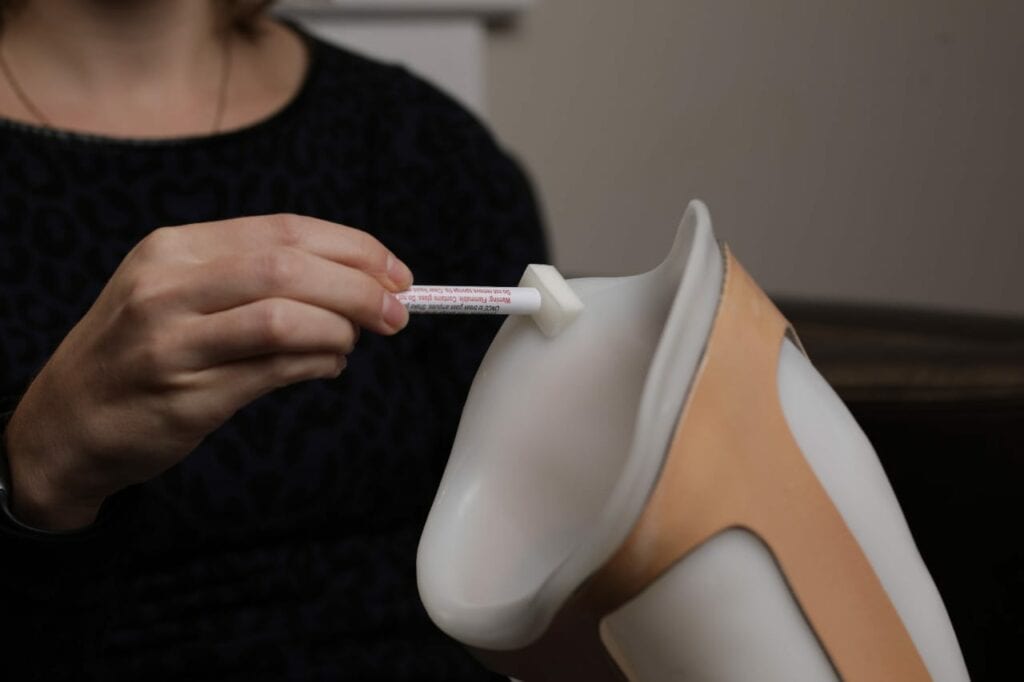 Growth in the direct-to-consumer market served as the impetus to rebrand the product as The Liner Wand, according to the company in a media release.
"Our early use and success with Apocrine proved we could make a difference in a clinical setting. However, it was also clear that there was a significant lack of knowledge in the amputee community when it came to proper liner care cleaning and hygiene. This was the cause of some of the most common amputee health issues, including skin irritation, discomfort, and odor. We needed a way to bring Apocrine use directly to consumers and elevate education around liner care in general."

— Elizabeth Stone, MBA, BI Medical chief executive officer
Total Hygiene Kit
The Liner Wand is now available as a total hygiene kit that features a specially formulated non-soap cleanser that is fragrance free, pH-balanced, and hypoallergenic, along with scrub brushes and a supply of Liner Wand applicators.
"The kit allows a user to bring what was once only available in the clinic right into their home as a subscription service."

— Elizabeth Stone, MBA
In addition, the company has committed to supporting the wider amputee community via monthly virtual "Communi-tee Social" events where participants can learn more about self-care and connect with other amputees.
Clinical Partner Program
"The rebranding exercise has taken into account the responsibility we have as a company in educating the general amputee population about the importance of good hygiene. But our rebrand and positioning as a direct-to-consumer brand in no way reflects a move away from our commitment to prosthetists and clinicians.

"We will continue to work with them to add incremental value to their practices by embedding our standard of care. In fact, with The Liner Wand brand, we believe we have now created a product that is much easier for prosthetists and clinicians to use and recommend to their clients."

— Elizabeth Stone, MBA
Through the Clinical Partner Program, all prosthetists will be able to receive free samples of The Liner Wand for use in their clinics.
"We believe that creating the standard of care in liner hygiene starts with universal professional endorsement. We know the relationship between an amputee and their prosthetist is one based on deep trust. By promoting the best standard of care in hygiene, we'll be helping to reduce both clinical complications and costs."

— Elizabeth Stone, MBA
Applications from O&P practitioners for the Clinical Partner Program are currently being accepted. For more information and to register, visit The Liner Wand.
[Source: The Liner Wand]