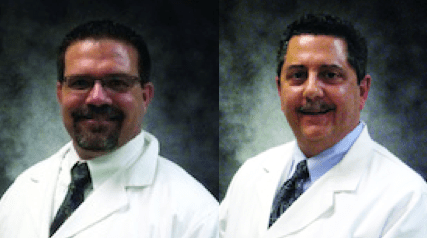 Hanger Clinic/Dynamic Orthotics and Prosthetics, headquartered in Houston, has announced the promotion of Thomas V. DiBello, CO, FAAOP, (pictured far right) and Jason M. Jennings, CPO, LPO, FAAOP (pictured right). DiBello and Jennings will be serving as regional director of Texas Gulf Coast and Area Clinic Manager, respectively, Hanger reports.
The promotions stem from the company's expansion in Houston and the surrounding areas and will assist in positioning regional leadership for increased responsiveness to customer needs, additional business growth, and new opportunities for strategic partnerships, Hanger adds.
As regional director of the Texas Gulf Coast, a recent news release reports, DiBello will be expanding his management of the Houston market to encompass the entire Gulf Coast Region. DiBello will also serve in a new role as the company's Central Zone Residency Director. DiBello's responsibilities will include coordinating the establishment of primary residency training sites in the zone that stretches from Canada to Mexico and Texas to Kentucky.
DiBello, former owner of Dynamic Orthotics and Prosthetics, emphasizes that his primary objective centers on providing the best possible care, products, and service to patients and customers. "This new role allows me to continue positively impacting the lives of those in need with my practice of orthotic care 2 days per week, while also giving me greater opportunity to advance our business and the educational opportunities available to young men and women interested in joining our rewarding profession," DiBello says.
Hanger notes that Jennings will be assuming DiBello's former role as area clinic manager. Jennings, a specialist in the treatment of complex lower-extremity orthotic and prosthetic solutions, will be responsible for managing all six Hanger Clinic/Dynamic locations in the Houston area. Jennings will continue to work with patients from Texas, surrounding states, and many countries abroad, the release adds. Jennings will also offer consultation services in other types of patient cases.
"… I am honored to step up as area clinic manager in [DiBello's] place. Tom and I have worked closely together for more than 5 years, and I'm confident our new positions will only serve to benefit our patients and customers," Jennings says.
Jeff Lutz, the Central Zone Vice President of Hanger Clinic, adds that, "Not only are Tom and Jason highly regarded for delivering exceptional patient care and inspired mobility solutions, their keen operations management continues to foster growth and successful relationships within the Texas medical, rehabilitative, and education sectors."
[Source: Hanger Clinic/Dynamic Orthotics and Prosthetics]