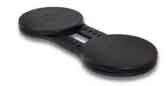 A double swivel-training device that provides treatment for a range of conditions, including stroke and bodily injuries, is available through Grail Sports Inc. Based on the consistent figure-8 motion in the body's core and hip area, the 8Board's motion is intended to assist in developing balance and cross-dominant coordination.
Grail Sports reports that its 8Board can be used to assist in recovery post-knee surgery or hip replacement surgery, to combat low back pain, as well as knee, hip, shoulder, and foot injury recovery. The product can also be used to prevent falls by targeting balance and core strength improvement.
The lightweight product is designed to promote portability and accommodate users of any age.
For more information, visit www.grailsports.com.
[Source: Grail Sports Inc]