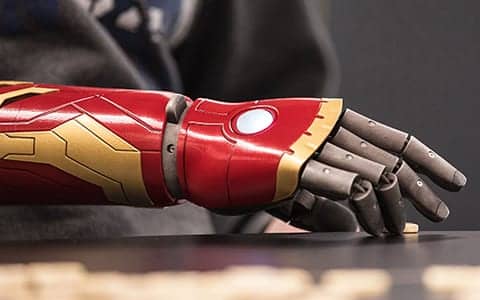 Hanger Clinic is reportedly the first prosthetics and orthotics patient care provider in the United States to bring the UK-based Open Bionics Hero Arm to America.
The Hero Arm is a first-of-its-kind, 3D-printed myoelectric system developed for those with below elbow limb loss or limb difference. Designed for and fit on users as young as 8, the Hero Arm provides an affordable, lightweight, multi-grip prosthetic arm option, according to Hanger Clinic in a media release.
"We're thrilled to be working with Hanger Clinic to deliver affordable multi-grip bionic hands to the limb-different community," shares Joel Gibbard, co-founder and CEO of Open Bionics, in the release.
"This is an exciting time for our company and after our success in the UK and France, we're very happy to expand our vision of affordable, advanced and high-quality prostheses to the US."
The first US recipients of the Hero Arm are 14-year-old Hanger Clinic patient Meredith Gross, a high school freshman who was born missing part of her lower left arm, and 12-year-old Arath Valentine Ruiz.
Gross, a competitive golfer and volleyball player, previously used sports-specific prostheses, but is now for the first time exploring the possibilities of using a multi-articulating arm for everyday tasks such as tying her shoes, riding a bike, and opening a bag of chips.
"The Hero Arm has opened up a whole new world for Meredith," says Jodi Gross, Meredith's mom, the release continues.
"She found success from the moment she put it on, and has been able to do things for the first time in her life. This device allows people like Meredith to own their differences with more confidence."
This is also the first time Valentine Ruiz has experienced using a multi-articulating arm, providing him with access to a whole new world of possibilities with the various grip patterns the technology provides. Specifically, Valentine Ruiz is now able to for the first time turn pages in a book without putting it down, use both a fork and knife at the same time while eating, and easily hold and open a water bottle.
"We at Hanger Clinic are continually looking for new and innovative methods of care and services to further the industry," states Stephen Mandacina, CP, Hanger Clinic's Upper Limb Program National Director.
"The Hero Arm from Open Bionics utilizes field advancements in multi-articulating hands, microprocessors and prosthetic design, and 3D printing technology to create a key breakthrough in upper limb prostheses that we are proud to bring to the US."
The Hero Arm is now available via Hanger Clinic locations nationwide, with consultation and fitting with Hanger Clinic's group of national upper limb specialists, according to the company.
[Source: Hanger Inc]