by Jenna L. Anderson, PT, DPT
Picture for a moment the thing you love doing the most. That one activity that makes you come alive. It is, perhaps, the thing that motivates you to make it through your day so you can participate in it fully. It may be a sport such as basketball or soccer, or it could be a more Zen pursuit, such as yoga or dance. Perhaps something as simple as going for a run or walking your dog. Calling that favorite activity to mind, now imagine that your arms are too weak to hold a basketball, or that your legs are unable to coordinate the movement of running. You can no longer take part in the activity you love.
This is the story of the children therapists work with every day. They all have this one thing (or multiple things) they love; they dream of it and are passionate about having the ability to participate in it. As physical therapists, what is our role in this person's life? The answer, of course, is to help them achieve that dream.
According to the Academy of Pediatric Physical Therapy, pediatric physical therapists work to assist each child in reaching their maximum potential to function independently and to promote active participation in home, school, and community environments. Sometimes, we are able to achieve this with some old-fashioned hard work and exercise, and these children are able to develop the skills they need to kick and throw and jump all on their own. However, some children need a little extra support to reach those dreams, and that is typically when we turn to some form of assistive technology. In today's technology-driven world, the options abound, from orthotics and assistive devices to gait trainers and wheelchairs, just to name a few. This article explores the current landscape of assistive technologies directed toward the pediatric population, and spotlights the features and functions that keep them mobile, moving, and engaged.
Orthoses
To engage in a favorite activity, or simply to get around the house or community, a young child may need extra support in the lower extremities. An orthosis is an external support device that is designed to support proper alignment, protect joints, reduce pain, and improve function. They are named for the part of the body they cover and are typically custom molded to the patient, though there are also prefabricated and off-the-shelf options as well. Orthoses are considered a type of durable medical device and require a prescription signed by a physician. They are specifically designed for each child's functional needs, considering elements such as ground reaction forces to control alignment in all three planes. Orthoses are often initially created to provide maximum stability and then adjusted as children progress in their ability to voluntarily control muscle function and protect joints. They can even be personalized and designed to patient color and style preference, which has greatly improved wearing adherence.1
Walkers
The ability to walk is one of the most fundamental ways young children have to move through the home or social settings and engage with family and friends. For some children, walking may rely on a medical device, and the style and types of assistive devices designed for this purpose vary greatly and can provide a wide range of support. One commonly utilized device is a walker, which can be either anterior or posterior depending on the specific elements a patient needs support in. Research has shown anterior walkers increase the amount of double limb support time during the gait cycle. However, anterior walkers also place increased demand on the upper extremities, specifically the elbow extensors and wrist flexors.2 For these reasons, posterior walkers are more often utilized in the pediatric population. Posterior walkers have been shown to improve postural alignment and gait characteristics as well as increased walking speed. Overall, patients who utilized posterior walkers demonstrated decreased energy consumption compared to patients using anterior walkers.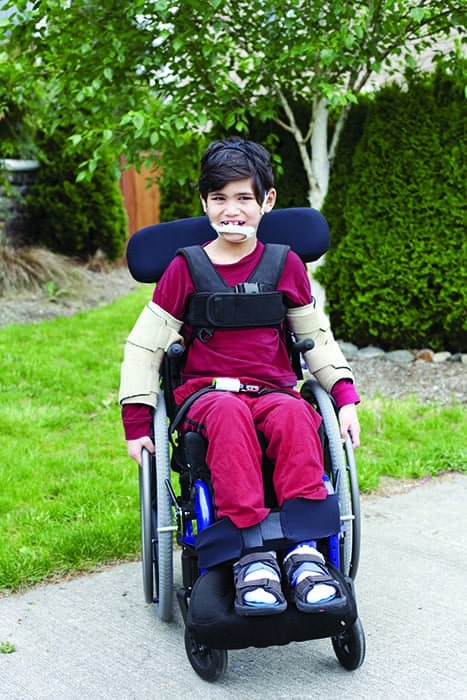 Gait Trainers
Children with more severe mobility restrictions usually require more support than a handheld walker can provide. In these cases, many therapists utilize support walkers that provide some manner of trunk, forearm, and/or pelvic support. Support walkers have become increasingly popular in recent years, especially in school and home settings as they help to support children with severe or multiple disabilities practice functional motor skills. Support walkers can include multiple attachments meant to maximize the child's positioning as well as optimize their gait pattern. These may include but are not limited to seats, abductor pommels, strapping or supports to unweight the child, handles or grab bars, and locking wheels for steering and safety.
Standing Systems
Being able to engage other human beings at eye level is an important component of interpersonal communication and social interaction. Beyond simply placing a user at eye level with those in a room, a standing system can provide certain physiological benefits. Beyond gait trainers, for example, a standing system is often recommended for children who are non-ambulatory or have limited ability to actively weight-bear through their legs independently. Current research has found that a standing program of 30 minutes 5 days per week can help to improve femur and spinal bone mineral density. Some research also indicated that children with cerebral palsy can better manage tone following a session of standing, though they require a longer time frame of 60 to 90 minutes daily to result in statistically significant changes in tone, lower extremity ROM, and contracture management. Studies have also demonstrated that straddled weight-bearing for 1 hour daily improved hip joint development and adductor muscle length. Depending on the therapist's and family's goals for the child, a wide variety of standers are available that offer sit-to-stand, prone, or supine positioning as well as assorted adaptations to include adjustable leg length, hip abduction, and mobility options.
Wheelchairs and Strollers
Power and manual wheelchairs have provided a means for children to navigate their communities for decades, and have grown sophisticated and more useful as technology has made its way into the manufacturing of these devices. Much like other assistive devices, the range of options available for wheelchairs is extensive with manual, power, and even sport and racing styles. Manual chairs can provide good support and containment for postural control with abilities including tilt-in-space and recline adaptations to allow for pressure relief and respiratory support. Manual chairs can range from lightweight and foldable designs to rigid frames with transit options. Additionally, power chairs can offer increased options for independent mobility to children who have limited function as they can be controlled with joysticks, touchpads, or head arrays. Power chairs will also have the ability to tilt-in-space and recline to help provide pressure relief and increase ease of transfers for caregivers.
Outside of the standard medical wheelchair designed to support individual patient needs for pressure relief, positioning, and community access, there are also sport or racing chairs.3 These chairs were developed to have less weight and better stabilization for an improved aerodynamic design and increased efficiency. Developments have become so advanced that there are now sport-specific chairs ranging from tennis chairs that provide the ability to complete quick turns and agility on the court to chairs for sports like basketball and rugby with stability designed to withstand collisions. There are also adaptations for general recreation including hand cycles that include gearing (adapted from cycling), which help support an active lifestyle for individuals that may not be interested in team sports.
Some children are able to perform independent mobility and therefore do not require a wheelchair, but they may still require additional support for long-distance community access. For these families, a medical stroller is a good option as they are a safe and convenient way to provide children an alternative means of access to their environment. Strollers include many of the features available for wheelchairs, including adjustable back and seat angles, recline capabilities, as well as cushions and strapping to ensure good postural alignment. In contrast to wheelchairs, stroller frames are created from lightweight materials to make pushing easier and accommodate folding.
Adapted Ride-On Toys and Bicycles
For children with more severe disabilities, new technologies have been developed to support their ability to explore their physical and social environments, including adapted ride-on toys and bicycles. For families and children whom power wheelchairs are not an option due to any combination of limitations including size, weight, cost, or transportation and social acceptance, alternative mobility devices are an excellent option.4 Toy cars can be used (and modified to match individual patient needs for support and adapted driving methods) as a low-cost alternative mobility device in the clinic, home, or school. These devices can help teach children concepts such as cause and effect, spatial awareness, and social interaction, and can also help increase a child's motivation to explore their environment. While there are still limitations with these products (large turning radius and inability to navigate rough terrain, for example), modified ride-on toys offer an option for engaging and motivating children through mobility.
Adapted bicycles are also an option to consider for children throughout the spectrum of disabilities. Cycling has been shown to significantly improve children's abilities in coordination and postural control tasks as well as overall gross motor function and cardiovascular fitness and endurance.5 It is also thought that participation in cycling activities may help improve children's self-esteem as it can allow children with disabilities to engage in an activity with their typically developing peers. With adaptations, cycling can be a safe activity for patients, even with severe disabilities, as there are few requirements for balance or high-level motor control or impact which decreases injury and fall risk. Adaptations can include but are not limited to seat belts and trunk support straps, foot and/or hand pedals with straps to secure hands and feet, and rear steering options to allow caregiver assist as needed.
More Than a Magic Word
Current research supports the theory that functional training and interventions for children with disabilities demonstrates greater results and improved participation. Assistive devices and technology can be an essential tool when viewed as an enabling force for children (and adults) with disabilities. But it is important to remember that participation is much more than just this magic word used throughout the realm of therapy justifying why we do what we do. As a therapist, we are addressing functional weaknesses and limitations with the goal of improving a patient's independence and ability to participate. But what does that word really mean? The key is to remember that optimizing a child's participation is not about making them more "normal." Participation is about finding a child's strengths and emphasizing them so that they can achieve all that they dream. RM
Jenna L. Anderson, PT, DPT, received her Doctor of Physical Therapy degree from Creighton University in 2013. She then completed the Pediatric Physical Therapy Residency Program at Creighton University in 2014. She is currently employed at The Children's Center Rehabilitation Hospital in Bethany, Okla, where she works as a pediatric physical therapist in the Outpatient Therapy Clinic. For more information, contact [email protected].
References
1. Foundations of Pediatric Orthotics. (2009). [ebook] Academy of Pediatric Physical Therapy, pp.1-7. Available at: https://pediatricapta.org/includes/fact-sheets/pdfs/Orthotics.pdf. Accessed March 1, 2018.
2. Park E, Park C, Kim J. Comparison of anterior and posterior walkers with respect to gait parameters and energy expenditure of children with spastic diplegic cerebral palsy. Yonsei Medical Journal. 2001;42(2):180-184.
3. Wilson P, Clayton G. Sports and disability: focused review. PM&R. 2010; 2(3):S46 -S54.
4. Huang H, Galloway J. Modified ride-on toy cars for early power mobility. Pediatric Physical Therapy. 2012;24(2):149-154.
5. Bosek M, Fenno L, Fowler J, Souers J. (2012). The Benefits of Riding an Adaptive Tricycle for Toddlers with Cerebral Palsy. [ebook] pp.1-22. Available at: https://www.ambucs.org/content/uploads/2015/06/Swiggum-Final-Capstone-Paper.pdf. Accessed March 1, 2018.