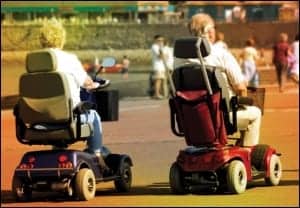 More people in the United States are using power wheelchairs than ever before, and power wheelchair and seating technology is more advanced than ever before. Improved wheelchair performance, configurations, electronics, and power seating functions are available to provide functional and physiologic benefits to consumers. Simultaneously, though, economic pressures on clinicians (therapists and physicians), providers, manufacturers, consumers, and third-party payors are also as high as they have ever been. The result is a complex environment filled with challenges and pitfalls for all stakeholders involved in wheelchair seating and mobility. Education and commitment to promoting best practices are the keys to navigating the pitfalls and achieving optimal outcomes in wheelchair seating and mobility. A few common pitfalls to best practice are discussed below.
Pitfall: Sometimes stakeholders (consumers, clinicians, suppliers, payors, or manufacturers) do not have sufficient education about how critical the specific details of the type, size, and components of the power wheelchair and seating system are to the quality of life, health, and function of the power wheelchair user. This can lead to negatively impacting the decisions made and the ultimate outcome for the wheelchair user.
An optimally configured power wheelchair and seating system should accomplish the following goals/outcomes: maximize comfort, quality of life, and self-image; improve upper extremity function; provide optimal biomechanical positioning; provide optimal pressure relief; maximize independence with functional mobility and MRADLs (mobility related activities of daily living); maximize efficiency with energy expenditure and respiration; optimize interaction with environment; and minimize risk for aspiration.
Complications of a poorly configured wheelchair and seating system may include: pressure sores, shoulder dysfunction, progressive scoliosis/kyphosis or other progressive positioning problems, pain, hip dislocation, decreased respiratory function, decreased ability to propel the wheelchair, and decreased ability to function in the environment. Many wheelchair users are vulnerable to these complications, some greater than others due to their specific diagnosis, impairments, and functional limitations.
A power wheelchair and seating system should fit and function like an orthosis, allowing the patient to make the most of the function they have, while providing support and assistance to help with the functions they lack. The wheelchair and seating system should also, like an orthosis, promote optimal biomechanical alignment for function and not interfere with it. Understanding how the components of a consumer's wheelchair/seating system may contribute to either the cause of, or the solution for, the individual's impairments/functional limitations is integral to successfully synthesizing the clinical knowledge base with the equipment knowledge base for best outcomes.
The FEW (functional everyday wheelchair) and the FMA (functional mobility assessment) are outcomes measures developed at the University of Pittsburgh (www.few.pitt.edu) that can be used by clinicians and/or suppliers. The FEW and FMA are comparative before/after-intervention functional outcomes interview tools that compare the client's perceptions of how well their wheelchair and seating system is working for them.
Pitfall: Some consumers do not get the opportunity to have a thorough power wheelchair assessment by a clinician with expertise in wheelchair seating and mobility.
Many medical and therapy specializations are needed in today's health care world; mobility is no exception. Clinicians who work with clients who utilize wheelchairs should strive to develop their knowledge base in this specialized area of practice, and/or they should make sure they know who they can refer their patients to for a wheelchair/seating assessment when one is needed.
A thorough evaluation includes the following elements:
Individual goals, complaints, concerns
Medical diagnosis, prognosis, history
Age-specific needs, growth potential
Environments of use—home, work, school, etc
Transportation
Activity level and needs
Caregiver needs; other equipment used at home.
Reported level of independence with MRADLs—bathing, grooming, toileting, dressing, feeding, and food preparation
Presence of auditory, visual, or cognitive deficits that affect safe operation of the wheelchair
Cultural or learning considerations
Safety—with wheelchair equipment; history of falls
Present wheelchair/seating equipment—What is it? How old is it? What things about it are working well and not working well?
Client's position in present equipment
Functional mobility level of client—transfers, pressure reliefs, ambulation, propulsion method/pattern
Sensation
Mat evaluation
The client should be assessed for the following, outside of the wheelchair, on a mat treatment table:
Seated posture
Active and passive range of motion—trunk, extremities
Strength/motor control
Tone
Edema
Skin integrity
Sitting balance on the side of the mat
Morphology/size
Detailed client measurements to ensure proper wheelchair and component fit


Trial of new equipment in clinic and/or with supplier in home assessment
Recommendation of definitive equipment
Prescription/justification documentation
Fitting and training of definitive equipment in seating clinic with provider and clinician and client.
Follow along
Better clinical evaluation is the key to higher quality regulation of durable medical equipment (DME) provision and improved functional outcomes with fewer clinical complications for consumers.
Pitfall: Consumers sometimes experience insufficient access to both knowledgeable clinicians and qualified suppliers of complex power wheelchair and seating/mobility equipment.
The best client outcomes involve a knowledgeable therapist working with a qualified supplier, ensuring quality care and appropriate investment of third-party dollars. Conversely, without a thorough evaluation by a knowledgeable clinician working with a qualified supplier for fitting and follow along, consumers are at greater risk to receive a wheelchair that is inappropriate, potentially compromising safety and function, or causing secondary complications. A nonqualified supplier also may not be able to adequately provide follow-up or repair services for equipment they provide. Third-party payor expenses are increased from paying for unnecessary equipment, or paying for care for patients as a result of complications from patients getting the wrong equipment.
RESNA (Rehabilitation Engineering and Assistive Technology Society of North America) has developed the ATP (Assistive Technology Provider) and, most recently, the SMS (Seating and Mobility Specialist) Certification, which was developed for those specializing especially with wheelchair seating and mobility. Working to meet the qualifications for these certifications provides a structured track a clinician or supplier can take to develop their knowledge base and pass an examination as evidence of their professional expertise in this area of practice. Certified ATPs and SMS clinicians and suppliers are also responsible for following a Code of Ethics. These certifications may also guide other stakeholders to resources with expertise in wheelchairs/seating. More information is available on the RESNA Web site at www.resna.org.
REIMBURSEMENT FOR POWER CHAIRS
For complex power wheelchair reimbursement, the Medicare Local Coverage Determination includes the following requirements for Group 2 single power wheelchairs and Group 3 power wheelchairs to be reimbursed:
1. "The patient has had a specialty evaluation that was performed by a licensed/certified medical professional, such as a physical therapist (PT) or occupational therapist (OT), or physician who has specific training and experience in rehabilitation wheelchair evaluations and that documents the medical necessity for the wheelchair and its special features (see Documentation Requirements section). The PT, OT, or physician may have no financial relationship with the supplier.
2. The wheelchair is provided by a supplier that employs a RESNA-certified Assistive Technology Professional (ATP) who specializes in wheelchairs and who has direct, in-person involvement in the wheelchair selection for the patient."
Clinicians, suppliers, and manufacturers who work with clients who use this type of equipment should hold each other accountable to promote best practices, pursue educational opportunities, and uphold the Code of Ethics, as well as to educate others in the field with less experience to elevate the overall service delivery process in the industry.
Pitfall: Consumers often do not have sufficient information about their power wheelchair/seating options, the equipment procurement process, and funding limitations and alternatives.
Until someone needs a power wheelchair, they really do not have a reason to know much about wheelchair/seating equipment options, funding, or where/how someone who needs a power wheelchair gets one. Suppliers, clinicians, and manufacturers who work with clients who need power wheelchairs have a responsibility to educate these consumers about their equipment options, as well as the assessment process they should undergo to obtain the best possible wheelchair/seating equipment to meet their needs. Unfortunately, some stakeholders involved in selling wheelchairs either do not have enough education to understand the potential for harm to vulnerable consumers, or are more motivated by sales than by optimal practice or best outcomes. As a result, many consumers are not provided with adequate assessment and, instead, are provided with inappropriate wheelchair/seating equipment. Medicare regulations do not require a licensed/certified medical professional (LCMP) evaluation or ATP involvement for noncomplex power wheelchair equipment. Consequently, many dollars are spent on this type of equipment that has the potential to put clients at increased risk for complications.
Consumers are bombarded by television and other targeted sales-motivated advertising that does not educate them in their risk factors or in how various equipment options might best meet their needs. Physicians, who are required to sign off on this equipment and discuss it in their chart notes on the client, are generally not able to complete the full wheelchair/seating assessment as part of their routine office visits.
Clinicians and professionals of all types in the wheelchair/seating industry must educate consumers, as well as other professionals, family members, and caregivers, in the full spectrum of equipment options available, with a goal of helping clients make well-informed decisions, referring clients when necessary to providers who are better equipped to serve them.
Despite the many improvements in wheelchair and seating technology, funding for these options is not always available. Many consumers do not understand the limitations that apply to their own insurance coverage or what other funding alternatives they might have. Clinicians and professionals must have a good understanding of the client's funding source and coverage, so as they educate clients in equipment options, they can also explain which options are covered and which are not. Even if an option is noncovered, clients should still be educated about it, so they can make their own choice about how important it is to them.
Power seat elevators and power standing options are good examples of this type of equipment. They are noncovered items by Medicare; however, the RESNA Position Papers on Wheelchair Standers and Power Seat Elevation summarize the literature and describe their functional and physiologic benefits. Similarly, power wheelchair options to facilitate community mobility, such as higher speed motors or upgraded tracking electronics, are also not covered by Medicare. Advanced programmable electronics with the capability to operate ECUs, mouse emulators, and other devices in the home are also not necessarily covered by payors. Yet, any of these features may be important clinically or functionally to consumers, who should be given the option to choose them during the equipment recommendation process. Consumers must also at that time choose to either self-pay and/or pursue other funding options (ie, community-based or charitable funding source) for the noncovered features.
CLEARING THE PITFALLS!
A complete evaluation with a knowledgeable clinician who is able to work with a qualified complex rehab supplier provides the client with the best opportunity to achieve optimal outcomes with their power wheelchair system. The following quote summarizes the skills and knowledge base required for best practice:"The clinical domain encompasses all issues about the user, including the diagnosis and prognosis, the impairments and the functional limitations, the measurements, the environment of use, and other unique patient characteristics. The Technical Domain (equipment application) encompasses available products and information about product performance that characterize its qualities and performance that are significant to the user in making a selection. The clinical assessment in Seating and Mobility Evaluation is a process of bringing together these two domains to synthesize a match between the user specifications and product performance. An output of the clinical assessment is a prescription and justification that summarizes the skillful synthesis of the clinical and technical domains resulting in a product specification."1 Industry professionals and clinicians must strive toward best practices via education of all stakeholders to successfully navigate the pitfalls and achieve optimal outcomes.
RESOURCES
Ferguson-Pell M, Nicholson G, Bain D, Call E, Grady T, de Vries J. The role of wheelchair seating standards in determining clinical practices and funding policy. Assist Technol. 2005;17:1-6.
---
Ginger Walls, PT, MS, NCS, ATP, SMS, is the regional director of NRH/Regional Rehab at Irving St, Washington, DC, and NRH/Regional Rehab at Mitchellville, Maryland. She is also the NRH/Regional Rehab Neuro Program Specialist. She has accumulated a broad background in neurologic physical therapy and seating and mobility. She received her certification as a Neurologic Clinical Specialist from the American Board of Physical Therapy Specialties in 1995 and recertified in 2005. She received her certification as an Assistive Technology Practitioner (ATP) from the Rehabilitation Engineering and Assistive Technology Society of North America (RESNA) in 2001 and her Seating and Mobility Specialist (SMS) Certification in 2010. She has taught multiple continuing education courses and written various articles in the area of wheelchair seating and mobility.For more information, contact .