Sunrise Medical, Fresno, Calif, introduces the QUICKIE Q300 M Mini power wheelchair, designed with an ultra-narrow base for easy maneuverability.
Featuring true mid-wheel drive technology, the Q300 M Mini turns on the spot, providing an ultra-small 17-inch turning radius (without footplates). In comparison, RWD and FWD power chairs need to "swing" around on their front or rear drive wheels, widening their turning circles. However, the Q300 M Mini has a turning circle of less than a yard – 33.7 inches.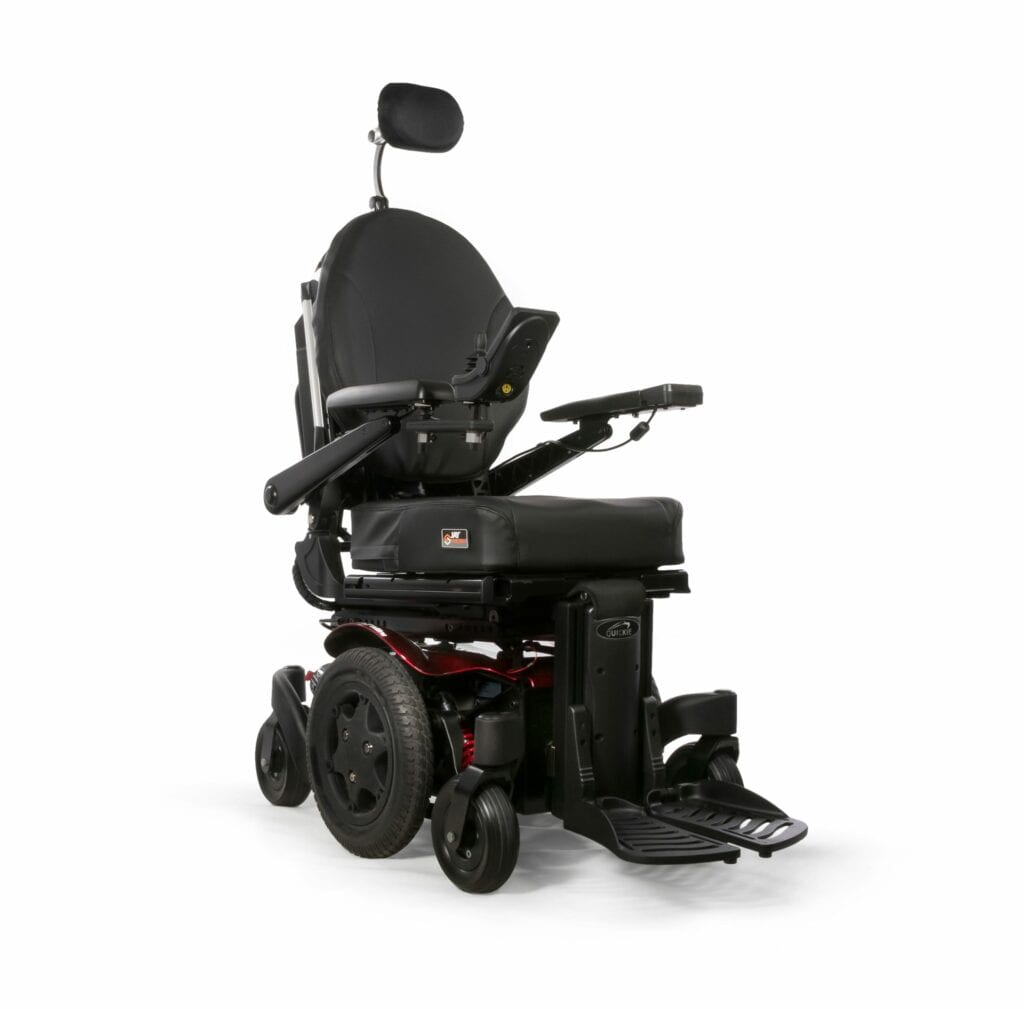 With a base weight of just 111 lbs, the Q300 is light enough to be used with most lifts. In addition, its ultra-low seat-to-floor height, starting from just 16.5 inches, allows users to fit comfortably under tables or when driving a wheelchair-adapted-vehicle. It is powered by a strong Group 22 – 50 Ah battery.
Seating options include the simple, adjustable SEDEO Lite and the configurable SEDEO ProT. Both seating frames offer the C-Me option, which enables users to elevate up to 12 inches while traveling up to 3 mph. With its minimal design, the SEDEO Lite is a light seating system that could offer a solution for hitch-mounted lifts. A wide range of cushions and positioning options; a diverse selection of armrests, armpads, legrests, and headrests; and numerous positioning accessories are available.
Swing-Away Thoracic Laterals
With the launch of the Q300 M Mini, Sunrise Medical is also launching new JAY Swing-Away Thoracic Laterals with improved locking strength. These slim-profile laterals allow for better positioning due to two pivot points that offer more than 100mm of adjustment.
"The Q300 M Mini is the perfect power chair for anyone who lives in a small place or needs to get around in tight areas, like their kitchen. It packs a lot of features found on much larger chairs into a small package. The 17" turning radius will really make the difference for many clients."

— Jeff Rogers, Director of Power Product Management
For more information, visit Sunrise Medical.
[Source: Sunrise Medical]
---
Related Content:
Sunrise Medical Introduces the QUICKIE Nitrium Ultra-Lightweight Rigid Wheelchair
Sunrise Medical Announces Upgrades to Quickie Power Portfolio
Sunrise Medical Acquires Leckey and Firefly