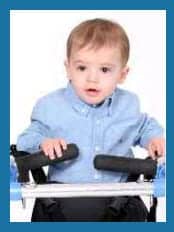 A partial weight-bearing device designed to improve balance, range of motion (ROM), and lower-extremity strength in toddlers is available through the Maple Glen, Pa-based company Easy Walking Inc. The Up n' Go Toddler Gait Trainer is intended to assist young users in developing and sustaining proper gait, and also assists in sit-to-stand actions, while allowing for ambulation from a variety of positions.
The company notes that its product's lifting support is adjustable to allow users to progress from high support to lower or no support as they regain or retain their leg strength. The product also targets trunk control, with its support partially lifting the user's weight while also stabilizing the position of the pelvis and trunk.
For more information, visit www.easy-walking.com.
[Source(s): Easy Walking Inc, Rehabmart.com]