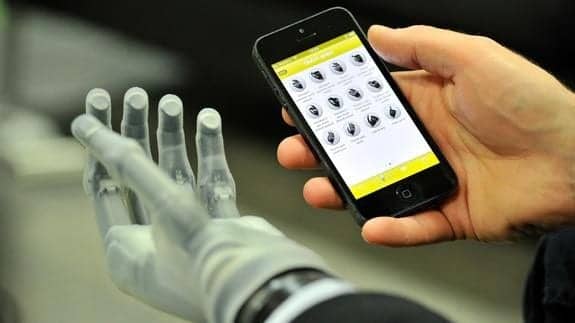 Touch Bionics announced a significant advance to its i-limb technology. According to a news release from Touch Bionics, the i-limb ultra revolution is the first upper limb prosthesis that can be controlled via a mobile application. The mobile application is compatible with the latest Apple products and is designed to give the wearer expanded control capability. The device also features a powered rotating thumb, extra sensitive electrodes, and 24 grip options.
Ian Stevens, CEO of Touch Bionics, states that the company is pleased to introduce the new i-limb ultra revolution with the latest biosim mobile control app, adding that he believes the device "offers unparalleled dexterity and control, enabling wearers to more easily perform activities of daily living and thus increase their quality of life."
The powered rotation of the thumb can reportedly be controlled either directly by the wearer's muscle signals or can move automatically into position as part of a preset grip pattern or gesture. The news release also indicates that the new Quick Grips option from the mobile control app enables the user to automatically activate 24 different grip patterns and gestures on their prosthesis with a single tap of the screen.
The mobile control app also features: Training for the user to access training modes; a Hand Health Check to activate the prosthesis diagnostic to ensure proper functioning of the device; and Favorites to store editable collections of grips customized for daily needs. Bertold Meyer, an i-limb wearer, declares it is "the most advanced and easy to use prosthesis that I have ever worn."
New i-limb products also have support for clinicians and are supported by the Touch Care service and support package and the Touch Link Academy certification program, as well as on-site occupational therapy training and reimbursement support services.
[Source: Touch Bionics]