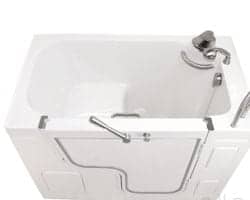 A wheelchair transfer walk-in bath has been added to the product line of Ella Accessible Bathrooms. The Acrylic Wheelchair Transfer Walk-In Bath's shell is comprised of solid, non-porous acrylic featuring a soft textured surface intended to provide non-skid protection. Two grab bars are strategically placed in the product to enhance support and safety.
Users have the option of a left- or right-hand-side door and drain, in addition to the soaking, hydro massage, air massage, and dual massage model's features. The product provides three front-removable access panels and a stainless steel frame. The Ella Wheelchair Transfer Walk-In Bath also provides a 17-inch seat height; a 23.75-inch seat width; and a lifetime warranty on the door seal gasket, frame, and shell.
For more information, visit www.ellasbubbles.com.
[Source: Ella Accessible Bathrooms]