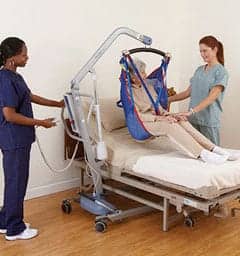 Prism Medical Ltd has forged a distribution agreement with online e-commerce company Rehabmart.com to market its M-Series Mobile Patient Lifts to a wider consumer base. The lifts are available in a variety of models and offer weight capacities ranging from 330 pounds to 440 pounds.
The Mobile Patient Lifts are comprised of durable steel with a protective FREECOTE coating, designed to provide unique antimicrobial and antibacterial properties resistant against MRSA, salmonella, listeria, and e-cloi. The lift line provides users with an ergonomically designed handset and profiled push handles to ease operation.
The products also feature a six-point carry bar, a powered leg opening, a rear foot bar, and emergency fail-safes such as stop button and lowering function.
For more information, visit www.rehabmart.com
[Source: Rehabmart.com]