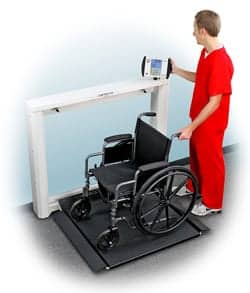 A wall-mount, fold-up wheelchair scale is now available through DETECTO, Webb City, Mo. The new model 7550 Wall-Mount Fold-Up Wheelchair Scale offers users a fold-up storage design intended to save space when not in use.
The company notes that once the product's folding platform is extended, it accommodates most wheelchairs and features a 6.6-inch profile engineered to take up minimal space when installed in a facility hallway, clinical office, or patient room. The 7550 digital wheelchair scale provides a 1,000 pound by .2 pound capacity to accommodate bariatric users, as well as two-way easy-access ramps.
The scale can be used on carpet or hardwood floor. It can be used for wheelchair, chair, and patient weighing. A textured, non-skid surface on the ramps and platform aim to provide wheelchair traction and standing patient stability and assurance. Additional features include 99 stored wheelchair tare weights, Body Mass Index calculation, pushbutton and keypad tare, alphanumeric keypad, 14-digit patient IDs, and optional Wi-Fi for efficient EMR/EHR.
For more information, visit www.detecto.com
[Source: DETECTO]