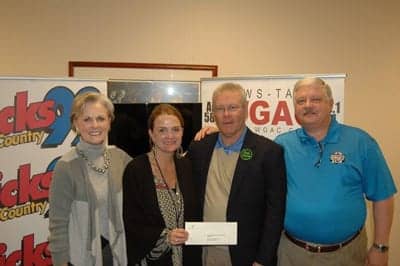 The Walton Foundation for Independence has announced that the Border Bash Foundation awarded a grant to its Camp To Be Independent (TBI), an annual summer camp for children and adults impacted by an acquired brain injury. Camp TBI 2014 is slated for July 27 to August 1. According to a news release from the foundation, applications for the camp will be available beginning in January 2014 at wrh.org.
The foundation notes that the donated funds were raised during Border Bash's 20th annual concert and celebration. The event was reportedly held the Friday prior to the South Carolina-Georgia football game, whose proceeds support local non-profits designed to positively impact children.
The Walton Foundation for Independence states that its mission centers on inspiring philanthropy to support programs and services intended to create an inclusive lifestyle for individuals with disabilities to live, work, and play.
Photo Caption: (from left to right) Vicki Greene, vice president, and Alice Salley, Associate Development Officer, both of the Walton Foundation for Independence; Tommy Rogers, Augusta Gamecock Club President and board member of the Border Bash Foundation and the Walton Foundation for Independence; and Hamp Vining, Border Bash Foundation board member.
Photo Credit: Walton Foundation for Independence
Source: Walton Foundation for Independence