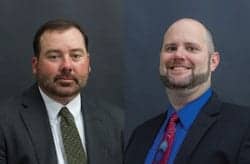 Quantum Rehab and Pride Mobility Products Corporation, Exeter, Pa, recently spotlighted the promotion of Chuck Finn (pictured right, far left) to chief operating officer (COO) and the addition of Douglas Cummins (pictured right, far right) as chief technology officer (CTO).
In his role as COO, Finn will direct the development of Pride Mobility, ensuring future growth throughout the attainment of short-term and long-term financial and operational goals.
A company news release notes that Finn will also oversee a variety of departments throughout the company, including global manufacturing, quality, research and development, information technology, e-commerce, operational efficiency, business management, accounts receivable and payable, logistics, purchasing, supply chain management, and distribution.
Finn holds a bachelors' degree in organizational communication and worked for Pride since February 1998 in a range of management capacities. Following a promotion in 2001 to vice president, Pride notes that Finn worked to develop vendor relationships and oversaw Pride's domestic distribution centers and inventory management of international locations. Finn went on to oversee and direct research and development in June 2010, as senior vice president, Supply Chain Management, and assumed administration of pricing, profitability, and forecasting in conjunction with business management. In August 2012 Finn was appointed executive vice president, Product Advancement and Supply Chain Management, and assumed leadership of the company's financial statements, operations, and overall direction of the information technology team.
Cummins, in his new role as CTO, will be responsible for driving innovation, technology, efficiency, and advancement throughout the company. Cummins will also work to ensure the technology is easy to operate and maintain, co-efficient and "unbreakable," as well as maximize e-commerce tools for Pride and its customers. Cummins holds a bachelor's degree in computer science and mathematics. He began his career as a database administrator, developer, and Oracle consultant. Cummins has worked for Lockheed Martin, ExxonMobil, Coco-Cola Company, Enron, and Dell. Cummins most recently served as CTO Delphi Consulting Services, creating winning enterprise architecture utilizing Oracle programs and other cutting-edge technical resources.
According to Scott Meuser, chairman and CEO, Finn and Cummins will join forces with senior management to continue Quantum and Pride's transformation as a complex rehab and retail mobility leader targeting quality product innovations and solutions, lead times, east of doing business, and ultra-Lean operational structure.
[Source(s): Quantum Rehab, Pride Mobility Products Corporation]