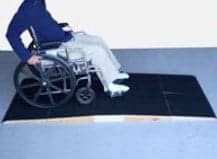 A training and balance ramp from MTS Medical Supply, North Billerica, Mass, aims to provide wheelchair ambulation and balance training for users. The Wheelchair Training & Balance Ramp features carpeted surfaces and a gradual slope of 1 inch to 1 foot intended to allow wheelchair users to learn how to go up and down slopes.
The system can also be separated and used for step and balance training. The ramp measures 36 inches wide by 7 feet long, rising to a height of 3 inches. The system also features a modular design, a weight capacity of 400 pounds, and can be taken apart and stacked in a room corner or placed in a closet.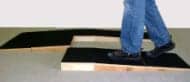 For more information visit www.mtsmedicalsupply.com.
[Source: MTS Medical Supply]