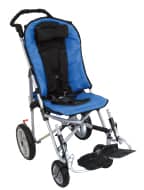 Convaid reports that it has partnered with Nehemiah Vision Ministries (NVM) in an effort to provide compact-folding, lightweight wheelchairs to children with special needs in Haiti. The company notes that it donated two of its Tilt-in-Space Rodeo wheelchairs to two children, one child with cerebral palsy and the other with severe hydrocephalus.
NVM aims to assist children, families, and their communities in Haiti in meeting the basic needs of life. Chris Braun, president, Convaid, notes that working with organizations like NVM, "allows us to help children that often go unnoticed. We are glad NVM reached out to us and we were able to help these children gain independence," Braun says.
Kerstin Sobus, MD, leader, NVM's Medical Mission Trips, emphasizes that the chairs will not only provide the children much needed support, but also provide the equipment they require to navigate the rough terrain in Haiti's natural areas. "These chairs will provide support for children with severe hydrocephalus, spina bifida, and cerebral palsy with lower extremity contractures," Sobus says.
The chairs' relative compactness also benefits families in Haiti who live in small one or two room huts where space may be limited, Sobus adds.
Source: Convaid