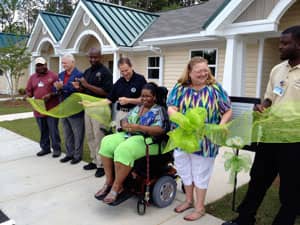 Walton Community Services (WCS) has announced the recent ribbon cutting for an expansion of its independent living community, Planer Mill Village senior apartment complex in Harlem, Ga. According to the organization, the community is the first multifamily project in Columbia County to be certified under Enterprise Green Communities, and the third such project to be certified in the state of Georgia.
WCS explains that Enterprise Green Companies is an independent program certifying green building practices for affordable, multifamily housing developers. The Planer Mill Village adds eight affordable and accessible one-bedroom units for seniors in Harlem, Ga. A recent news release reports that the project is supported through a partnership with the US Department of Housing and Urban Development (HUD).
WCS aims to provide accessible living communities for older adults and individuals with disabilities in Columbia, Richmond, and Aiken counties. The organization's ultimate goal is to restore ability, hope, and independence to those requiring community support following temporary illness, injury, or life changing disability.
For more information visit wrh.org/housing or www.wrh.org
Appearing the photo above (from left to right):
James Labord; Dennis Skelley, president and CEO; Jesse Johnson; Bobby Culpepper, mayor of Harlem; Kisha Cary-Spann, housing director; Beth Miller, vice president; Cameron Pitts
Source: Walton Community Services