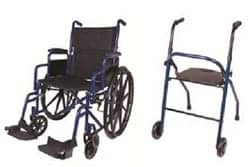 Two new mobility products have been introduced by Carex Health Brands, each targeting improved mobility and ease of transport for users.
The newest wheelchair, the Classic Wheelchair from Carex Health Brands does not require assembly and features a 20-inch seating area, a fold-down back with storage pouch, and adjustable swing-away footrests. Its desk-height armrests are intended to allow users to join a table uninterrupted and are also removable to ease side transfers. The product can also be folded flat to allow for compact storage and transport, the company notes.
Carex's Two Wheeled Walker with Seat and Backrest offers users oversized 6-inch wheels and auto glide rear tip, which the company notes can double as a brake when pressed down for added safety. The new walker features a 300-pound weight capacity, is height adjustable, and can be folded by lifting up on the seat for compact storage and transport.
For more information, visit www.carex.com
[Source: Carex Health Brands]