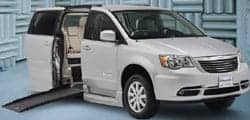 BraunAbility, Winamac, Ind, recently unveiled its newest technology, available exclusively on its wheelchair vans and designed to reduce noise and vibration by up to 25%.
The company reports that its Quiet Drive acoustic technology and sound-attenuation materials are engineered to deaden sound and vibration at the source. BraunAbility adds that its engineers have spent the past 2 years researching the acoustic improvement and refining solutions at the advanced engineering facilities of Chrysler and Ford.
The research has yielded technology that uses noise-blocking seals and noise-absorbing materials that aim to stop sound before it enters the cabin. The improvements, the company says, will be standard on all new BraunAbility conversions on the Chrysler, Dodge, Honda, and Toyota accessible minivans.
For more information, visit www.braunability.com.
[Source: BraunAbility]