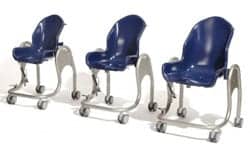 A new line of shower commode chairs is now available through the Oakdale, Pa-based company Clarke Health Care Products. The BORIS pediatric shower chair is marketed in five sizes, featuring seat widths ranging from 15 inches to 20 inches to accommodate users from pediatric to young adult.
The company notes the product also features a PE plastic molded seat shell designed to offer upper body support.
Its stainless steel chassis can be placed in a tilt-in-space position for comfort, and its gas cylinders are engineered to smoothly move the seat into the desired tilt position. The product's fame is also height adjustable, the company states, in order to facilitate toilet heights. Positional aids include head support, cushioned seat insert, safety bar/tray, foot plates, and splash guard/abductor.
For more information visit www.clarkehealthcare.com
[Source: Clarke Health Care Products]