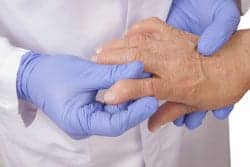 A news release from the Hospital for Special Surgery (HSS) highlights two new studies targeting joint replacement outcomes in rheumatoid arthritis (RA) patients. The first study reportedly bucks the conventional belief that RA patients experience worse outcomes following a total knee replacement (TKR) than patients who undergo the operation for osteoarthritis (OA). In the study, researchers note they used the HSS Total Joint Replacement registry in order to identify 178 RA patients and 5,206 OA patients who underwent a TKR.
The results indicate that RA patients were sicker while 73% of OA patients exhibited no comorbidities, only 34% of RA patients were in this category, according to researchers. While TKR patients with RA experienced worse pain and function prior to surgery compared to controls, the differences disappeared following surgery. Also, in 32 RA patients and 342 OA patients who underwent a TKR revision, the patients demonstrated similar pain and function preoperatively.
However, the release notes that patients with RA actually had significantly less pain, better function, and were more satisfied at 2 years. Susan Goodman, MD, lead author of both studies and a rheumatologist at HHS in New York City, reiterates the results. "Our RA patients undergoing knee replacement revisions did better than our osteoarthritis patients," Goodman says.
In the second study, researchers compared outcomes of 202 RA patients and 5,810 OA patients who underwent hip replacement. The results also indicated that RA patients were sicker while 80% of OA patients exhibited no comorbidities, with only 34% of RA patients falling into this category.
Goodman states that while function was significantly worse in RA patients prior to surgery, when assessed 2 years out, they were likely to have an improvement in function and pain. While the study indicates a difference in knee replacement versus hip replacement in RA patients, researchers explain that it is unclear exactly what the difference is.
"The HSS investigators plan to conduct further research to identify possible differences between the two groups," Goodman adds.
[Source: HHS]