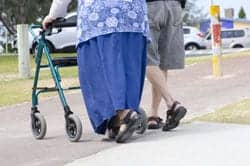 New research suggests that obesity's impact on individuals with disabilities may be greater than previously reported. The study, which appears in the American Journal of Preventative Medicine, was designed to assess how disabilities that affect mobility affect the prevalence of obesity and chronic conditions such as diabetes and high blood pressure.
The primary goal of the study, according to Katherine Froehlich-Grobe, PhD, associate professor, University of Texas School of Public Health in Dallas, is to assess the rate of obesity among individuals with disabilities based upon actual measurements rather than self-reported height and weight.
During the study, researchers reportedly used six sets of data from the National Health and Nutritional Examination Survey (1999-2010) to compare the rates of obesity and extreme obesity among 11,556 adults with disabilities and 20,434 adults without disabilities. Researchers note that the most common disabilities impacting mobility were arthritis, and back and neck problems.
The results suggest that 41.6% of individuals with disabilities were obese and 9.3% were extremely obese. Results for individuals without a disability indicated that 29.2% of participants were obese and 3.9% were extremely obese. In light of these findings, researchers suggest that health care providers should be encouraged to include individuals with disabilities in their clinical weight management efforts.
Froehlich-Grobe emphasizes that physical activity and exercise are key to weight management, adding that individuals with disabilities should be as active as they can within the limits of function and health, "Common forms of exercise and activity [include] walking or bicycling, so the problem faced by providers is knowing what to recommend to those who face mobility issues and for whom walking is neither feasible or advisable," Froehlich-Grobe says.
[Source: Health Behavior Science News Service, part of the Center for Advancing Health]