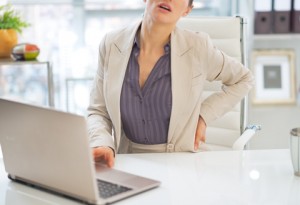 The University of Waterloo published study findings recently that document how the spine moves during sex, and outlines which positions are best for women affected by low back pain. Results are said to debunk the idea that "spooning" is the ideal position for women with low back pain.
Findings appear in European Spine Journal.
"Traditionally, spooning was recommended by physicians to all individuals with back pain because it was thought to reduce nerve tension and load on the tissues," said Natalie Sidorkewicz, the PhD candidate at Waterloo who led the study. "But when we examined spine motion and muscle activity, we found that spooning can actually be one of the worst positions for certain types of back pain."
A media release from The University of Waterloo states that the research combined infrared and electromagnetic motion capture systems, like those used by filmmakers for full computer graphic character animation, to track how 10 couples' spines moved when attempting five common sex positions. The findings were used to create an atlas, or illustrated set of guidelines that recommends different sex positions based on what movements trigger a patient's pain.
The atlas suggests that women who are extension-intolerant, meaning those whose back pain is made worse by arching their backs or lying on their stomachs, for example, replace spooning with the missionary position. Adding a low-back support, such as a pillow, can also help keep the spine in a more neutral position. For women who are flexion-intolerant, typically those whose back pain is made worse by touching their toes or sitting for long periods of time, the atlas recommends spooning or doggy-style sex where the woman is supporting her upper body with her hands, not her elbows.
"What we know now is that sex positions that are suitable for one type of back pain are not appropriate for another kind of pain," Sidorkewicz said. "These guidelines have the potential to improve quality of life—and love life—for many couples."
[Source: University of Waterloo]