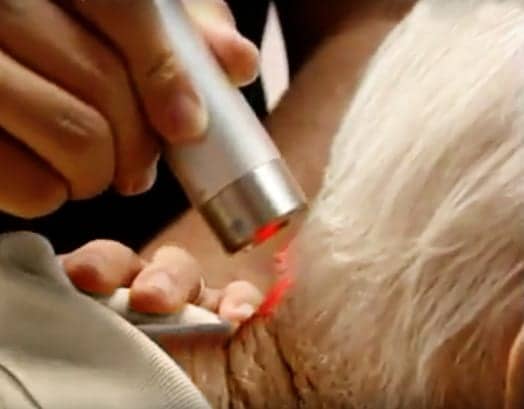 By Mark Callanen, PT, DPT, OCS
What drives patients to your clinic? While many clinicians like to think it is their expert advice and research-backed exercise programs, the truth is that most patients are seeking clinicians skilled in providing pain relief.
Given the negative press regarding the opioid epidemic, patients are more interested than ever in non-pharmaceutical alternatives for pain management. Therapeutic laser is an alternative that has been utilized in pro and Division 1 training rooms for years, but has only recently been getting traction in the rehabilitation setting. Laser therapy is a non-invasive modality that can have effects on both chronic and acute pain via the process of photobiomodulation (PBM).
PBM occurs when an effective dose of light energy is applied to injured tissue. This creates photochemical stimulation at the mitochondrial level which triggers several positive biochemical changes that can decrease pain1,2, improve inflammation3, and accelerate tissue healing.3,4,5
When acquiring a laser there are a variety of parameters to consider, including the units average power output, therapeutic wavelength(s), pulsing characteristics, and the delivery system, to name a few. Knowing how these factors impact acute, chronic, and deep tissues is important when implementing this modality.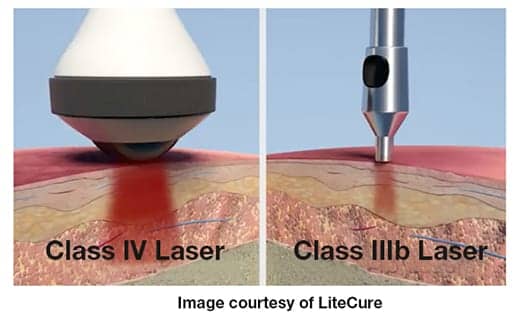 Broadly, in the US market lasers are classified by the output power of the unit. Most lasers fall between Class 2 and Class 4. Regardless of power, PBM is the primary mechanism of action. Where lasers differ significantly is in their ability to create analgesic effects within minutes.
Recent research has shown that higher power densities (irradiance) significantly impacts pain perception via its impact on C and A-delta afferent nerves.1,6 This is a phenomenon that cannot be easily accomplished with lower-powered lasers. Quick analgesic effects from high-powered laser opens the door to more manual options and increased active therapies on the same day. Class 4 laser treatment time is normally equivalent to the time spent providing an ultrasound treatment.
With virtually no side effects and a very short list of contraindications, laser therapy is an emerging player in the pain market and could serve as a game changer in any practice that regularly manages musculoskeletal pain. Special consideration should be given to Class 4 units if the goal is to provide quick pain relief. Understanding the similarities and differences of different laser platforms will help shed light on the best fit for your clinic.
Mark Callanen, PT, DPT, OCS, is the director of clinical development for LightForce Therapy Lasers. He has treated orthopedic patients for 18 years and has been board certified as an Orthopedic Clinical Specialist (OCS) by the APTA since 2003. Callanen earned his doctorate in physical therapy in 2007 from Marymount University.
References
1. Chow R, Armati P, Laakso EL, Bjordal JM, Baxter GD. Inhibitory effects of laser irradiation on peripheral mammalian nerves and relevance to analgesic effects: a systematic review. Photomed Laser Surg. 2011;29(6):365-381.
2. Duchesne E, Dufresne SS, Dumont NA. Impact of inflammation and anti-inflammatory modalities on skeletal muscle healing: from fundamental research to the clinic. Phys Ther. August 2017;97(8):807-817.
3. Stein A, Benayahu D, Maltz L, Oron U. Low-level laser irradiation promotes proliferation and differentiation of human osteoblasts in vitro. Photomed Laser Surg, 2005;23(2):161-166.
4. Mvula B, Mathope T, Moore T, Abrahamse H. The effect of low level laser therapy on adult human adipose derived stem cells. Lasers Med Sci. 2008;23(3):277-282.
5. Dube A, Gupta PK, Bansal H. Modulation of macrophage structure and function by low level He–Ne laser irradiation. Photochem Photobiol Sci. 2003;2(8):851-855.
6. Holanda VM, Chavantes MC, Wu X, Anders JJ. The mechanistic basis for photobiomodulation therapy of neuropathic pain by near infrared laser light. Lasers Surg Med. 2017;49(5):516-524.