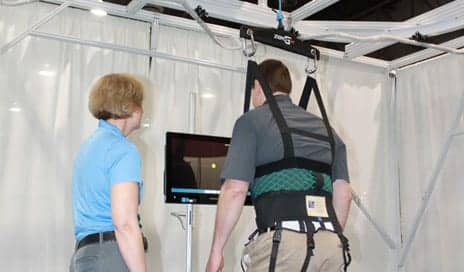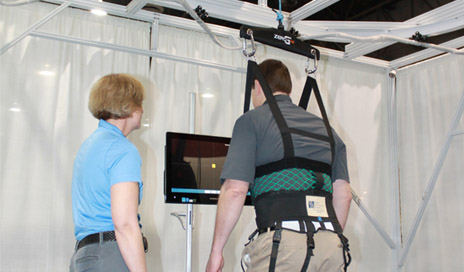 Research scientists at Kessler Foundation, West Orange, NJ, plan to study the impact of interventions such as robotic exoskeletons and treadmill training as part of the recent acquisition of a ZeroG Gait and Balance Training System from Aretech LLC.
The model that will be put in use by the researchers is the ZeroG Version 2, a robotic body-weight support system mounted in an overhead track that allows users to engage in rehabilitative actives safely and independently. The ZeroG Version 2 has a compact design as well as a weight capacity that allows a maximum of 400 pounds, according to a media release recently issued by Kessler Foundation.
Version 2 is also said to provide biofeedback to challenge individuals physically and cognitively. A high-resolution display screen features interactive games and target matching activities such as breaking blocks and bobbing and weaving to avoid objects, which are features directed at increasing user motivation and encouraging participation.
According to the foundation's media release, the ZeroG is a versatile device that can be used for a variety of functional activities by individuals who range in age, weight, and diagnoses. For example, the device is designed to allow users to safely sit, stand, squat, climb stairs, use an exercise ball, and run at speeds up to 6 miles per hour. ZeroG is also engineered to enable users to walk over ground, on a treadmill, or in an exoskeleton, without the fear of falling.
The device is designed to provide real-time data for mobility research via a wireless interface and transmits data that includes distance, speed and duration of walking, levels of body-weight support, and falls prevented. Activity can be monitored via ZeroG's touchscreen or a mobile phone or tablet.
Rodger DeRose, president and chief executive officer of Kessler Foundation, notes that Kessler represents one of only six centers in the United States to use the device exclusively for research. "We anticipate that ZeroG will help us explore new ways to help individuals function more independently at home, in the community, and in the workplace," DeRose says in the foundation's media release.
Joe Hilder, PhD, chief executive officer of Aretech and inventor of ZeroG, says the company is excited to see Kessler Foundation's scientists apply the capabilities of ZeroG to their research.
"Because of its partnership with Kessler Institute for Rehabilitation, Kessler Foundation is uniquely equipped to develop treatments that can quickly and effectively be implemented in clinical care. Incorporating ZeroG will advance our understanding of the impact of new interventions being studied at the Foundation, such as robotic exoskeletons and treadmill training," Hilder says.
[Source: Kessler Foundation]