Further expanding on the theme of "All In," Numotion recently held its first-ever Mid-Year National Leadership Conference for all employees, it reports in a news release.
The goal of the conference was to reflect on the past 6 months and the various dynamics that have impacted the company's customers, team and communities.
The idea for a Mid-Year event came from employee feedback and out of a desire for increased frequency. The Mid-Year meeting also served to align all employees around business updates and demonstrate how Numotion is accelerating out of the pandemic.
Format
The entire Thursday event was webcast to all employees, including:
Opening comments from CEO, Mike Swinford and updates from Gary Gilberti, Executive Vice President, East Division and James Hartman, Executive Vice President, West Division
Business updates and presentations from Adam Holton, Chief Human Resources Officer, Bud DeGraff, Chief Operations Officer and John Pryles, Executive Vice President of Sales
Awards presentation recognizing and showing appreciation for the work of Numotion employees
In total, more than 2,000 employees viewed the live webcast. In addition to presentations by members of the leadership team, employees also viewed a TED Talk from social psychologist Alison Ledgerwood on how to unlock a more positive attitude. Alison's video was followed by an employee panel discussion around ideas and tips for promoting positivity in everyday life.
Virtual Community Service Events
Numotion also went "All In" on its mid-year community service project. All employees (and their families) across the country were encouraged to take Friday morning to give back to their communities.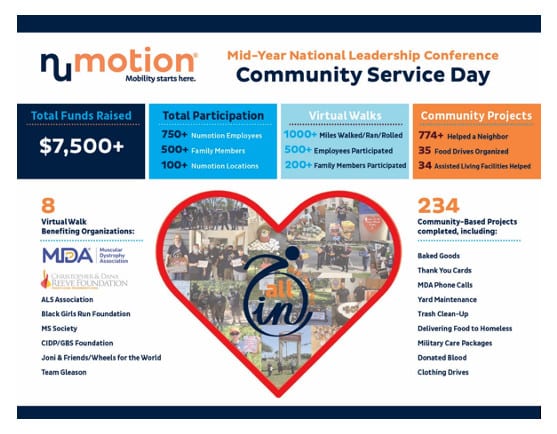 Community Service events fell into two categories:
Virtual walk, run or roll – These events were used to raise awareness for Numotion's partners at MDA, the Christopher & Dana Reeve Foundation, and several other employee-chosen groups.
Help your neighbor – Employees participated in a variety of activities to give back in their communities, including virtually helping and encouraging seniors, neighborhood yard and trash cleanup, military care packages, clothing and food drives, and donating blood.
Additionally, a group of employees in Numotion's Gateway Region used the day to help Iowa teammates, their families, and other local senior citizens who were all affected by the massive storms that recently impacted that area.
[Source: Numotion]
---
Related Content:
Numotion National Leadership Conference Goes 'All In'
Numotion Foundation and United Negro College Fund Establish Scholarship
Numotion Acquires Northland Rehab Supply